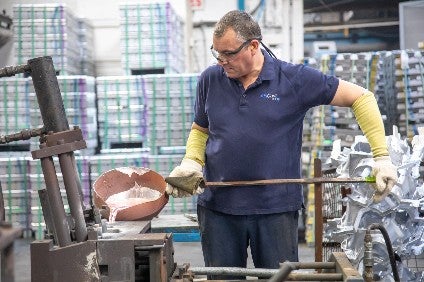 Delivering complex components for new automotive 'light weighting' projects is reaping dividends for a Black Country supplier.
Alucast , which is one of the UK's largest independent aluminium foundries, has secured over GBP3m of new contracts from car makers keen to explore ways of reducing weight on future models.
Backed by support from Sandwell Metropolitan Borough Council, Black Country LEP and the Black Country Growth Deal, it has opened additional facilities adjacent to its Wednesbury headquarters to cope with the expansion, giving the company an additional 7000 sq ft of dedicated machining space to work with.
"The automotive industry continues to move to lighter vehicles as the car makers look at ways where they can meet emission targets and improve fuel performance," said Tony Sartorius, chairman of Alucast.
"We have been working on this approach for some time, supporting some of the world's most prestigious OEMs to design and cast lighter components to what they've been using previously.
"This is now paying off with GBP3m of new contracts secured in the last 12 months alone, with the promise of a lot more to come if we continue to invest in our capabilities, our design team and our rapidly growing machine shop."
He continued: "It's great news for the Black Country as we will be creating tens of new jobs towards the end of the year when volumes come on stream and it's a positive shot in the arm for local manufacturing with 'Brexit' on the horizon."
Alucast, which is on course for GBP8.5m annual sales, specialises in providing aluminium castings for a global customer base involved in automotive, agriculture, hydraulics and the oil and gas industry.
Investment in a new GBP175,000 die penetrant facility, combined with more than 50,000 sq ft of manufacturing space, gives it the flexibility to offer low, medium and high volume production.
The management has recently signed off the GBP400,000 acquisition of three five-axis CNC machines from the Engineering Technology Group (ETG) in Wellesbourne which will help it supply final machined parts to the customer.
John Swift, Managing Director, added: "It has been a real whirlwind two years, which started in 2017 with celebrations for our 50th birthday and then continued with one of our best ever periods of winning new business.
"We're not stopping there though. The recent investment and future spend are all about making the most of new opportunities, including the electrification of vehicles where we can produce castings for motor cases, liquid cooling and power electronics for instance."

Alucast is part of the Manufacturing Assembly Network, an eight-strong group of sub-contract manufacturers and an engineering design agency who work together to win orders and share best practice and resource.
The collective, which enjoys more than GBP75m sales and employs over 800 people, can offer all engineering disciplines, including automation and control systems, fabrication, forging, plastic injection moulding, PCB development, precision machining and high-volume pressings.
Its membership also includes Barkley Plastics, Brandauer, C-MAC SMT, Grove Design, Kimbermills International, Mec Com, Muller Holdings and PP Control & Automation.