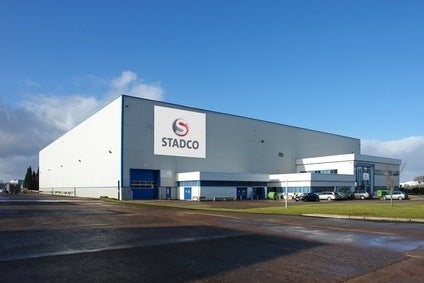 Stadco says there is further opportunity to grow its business in the UK as the British automotive sector continues to thrive and recover from the downturn of a few years ago.
The stamping and assembly specialist made the optimistic comments following the announcement of its US$25m investment in the UK Midlands towns of Telford and Shrewsbury.
The supplier is declining to reveal the source of the "major new contract," but adds it will be for aluminium and steel stampings, as well as sub-assemblies for a "leading automotive OEM."
"We acquired the facility in Telford in 2011 and we have moved from a standing start to a plant that is highly utilised and [which] will now see four transfer presses installed," Stadco sales & marketing director, Dinos Andreou, told just-auto.
"We are doing a lot of complex assembly work on the Jaguar F-Type and areas of available capacity [are] being used up as the level of stamping work has increased.
"We continue to explore growing our level of stamping and sub-assembly work and we think there remains opportunity to continue expanding"
Investment in Stadco's Telford plant will mean the addition of two, 2,000t transfer presses, equipped with material handling equipment, capable of processing both aluminium and steel blanks at high speed.
This will provide capability to produce up to four parts simultaneously, at a combined average rate of up to 3,200 parts per hour to suit high-volume vehicle production.
"We have done a lot to shape it [business] over the last two to three years, really as an outcome of the 2008 recession," said Andreou.
"We think we are robust in terms of our ability to meet future demands and challenges. We are extremely confident in the robustness of the growth plans we have and which comes [from] the confidence we have got in the OEMs [and] their growth plans."
Stadco is also an international supplier of body-in-white (BIW) products and services to a range of other automotive OEMs including Ford and General Motors.