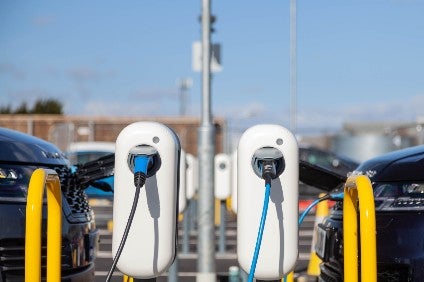 The UK's Society of Motor Manufacturers and Traders (SMMT) has demanded the government commit to "significant long-term incentives" for electric vehicle (EV) purchases and binding targets on charging infrastructure, after a survey suggested almost half of UK owners did not feel ready to make the switch by 2035 (when the government will ban fossil fuel vehicles).
EVs are rapidly growing in popularity, the SMMT said, with demand more than doubling over the last year thanks to industry of GBP54bn in 2019 alone.
Over the last 12 months, the number of plug in hybrid and full electric models has expanded from 62 to 83 with more scheduled for launch soon.
Consumers can now choose from plug-in hybrids capable of an average 38 miles of zero emission driving on a charge to full electric models with ranges of up to 300 miles (500km) plus a few hydrogen-electric fuel cell models.
A survey by Savanta ComRes confirmed keen interest from consumers in this technology with drivers most attracted to lower running costs (41%) and chance to improve the environment (29%). However, while these cars now account for one in six models on sale (17%), they make up just one in 13 purchases (8%). The survey found the biggest factors holding buyers back were higher purchase prices (52%), lack of local charging points (44%) and fear of being "caught short" on longer journeys (38%). A third (37%) were optimistic about buying a full EV by 2025, 44% didn't think they'd be ready by 2035, with 24% saying that they couldn't ever see themselves owning one.
Despite these reservations, most barriers can be overcome with the right strategy, the SMMT said. It is calling for a long-term commitment to incentives, including the continuation of the plug-in grant and its reintroduction for plug-in hybrids.
This commitment, alongside VAT (sales tax) exemptions for all zero emission capable cars, would reduce the price of a family car by an average GBP5,500 for battery electric cars and GBP4,750 for plug-in hybrids, and for an SUV by GBP9,750 and GBP8,000 respectively – "vital given the high cost of producing this advanced new technology", SMMT said. This, it claimed, would bring them more in line with petrol and diesel equivalents and potentially drive 2.4m sales over the next five years, with an estimated 28% market share by 2025 compared with 8% today.
Extensive analysis by SMMT and Frost and Sullivan showed a full, zero emission capable UK new car market would require 1.7m public charge points by the end of the decade and 2.8m by 2035. Given there are only some 19,314 on street charge points today, the task is massive, needing 507 on street chargers to be installed per day until 2035 at a cost of GBP16.7bn.
SMMT acknowledged the government had already taken significant steps to support this emerging market. Purchase grants GBP1.7bn had been paid out or budgets earmarked from 2011 to 2023, alongside GBP500m committed to the Project Rapid motorway charging network and a GBP200m investment fund for public charging network expansion.
The SMMT said: "However, while welcome, this is a fraction of what is needed to meet ambitious targets. All stakeholders must work together to develop a truly accessible, national network that serves the needs of all road users. SMMT is therefore calling for a national, multi-sector strategy led by government but with binding infrastructure targets, delivered by local authorities, charging providers and energy companies."
The Unite union, which represents automotive workers, called on the government to ensure UK car manufacturers were given sufficient support to meet future challenges.

National officer Des Quinn said: "This [SMMT] report demonstrates beyond doubt that the government has got to up its game in supporting the development and purchasing of electric vehicles.

"Support needs to be provided for all UK automotive manufacturers to be building electric vehicles in the UK. Giving tax breaks and discounts to electric models made overseas is ultimately self defeating and could affect UK jobs.

"It is absolutely imperative that the government urgently enacts a comprehensive programme of investment in electric vehicle infrastructure, including expanding the network of fast charging points.

"Until drivers are reassured that they can recharge their cars when they need to and they won't be left stranded miles from home, sales of electric vehicles will not increase significantly.

"Realistically, we remain some way from the mass roll out of electric cars. In the meantime, incentives need to be provided for the purchase of the cleanest new car models.

"This will provide UK car makers with the financial resources and the confidence to invest in the future development of electric vehicles in the UK."