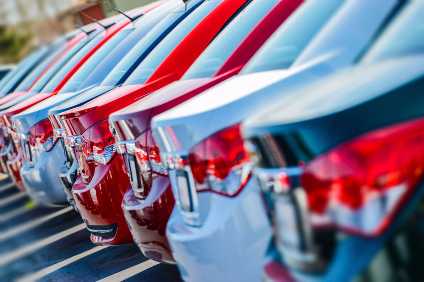 The UK new car market declined again in October, with 153,599 cars sold, 2.9% down on the same month last year, according to SMMT data.
The SMMT said the decline came as model changes and backlogs at test houses conducting new WLTP emissions certification continued to cause shortages across some brands.
Declines were seen in both private and fleet sectors, with registrations down 1.0% and 5.2% respectively. Meanwhile, continuing uncertainty over government policy on diesel saw diesel demand fall by a further 21.3% over last year. Registrations of petrol cars rose 7.1%, while the market for alternatively fuelled vehicles (AFVs) once again showed strong growth, up 30.7%, supported by new models.
Zero emission battery electric vehicles saw particularly impressive growth, up 86.9%, as 584 more people drove one home than in the same month last year. Hybrid and plug-in hybrid vehicles, which make up the majority of AFV sales due to their greater flexibility, also enjoyed strong uplifts, growing 31.0% and 19.1% respectively. However, this is not surprising given the announcement that the Plug-in Car Grant was to be cut for pure electric cars and withdrawn completely for plug-in hybrids – although, due to lead times, the full impact may not be seen for several months.
The figures come as SMMT publishes new industry forecasts for AFV demand, with registrations expected to grow 82.5% from 2017 levels by 2020. Similar growth (+88.3%) is projected for plug-in electric cars, with 92,620 new plug-in hybrid and battery electric cars expected to be sold in the same year – taking market share to around 4.0%. This is at the lower end of government's 3-7% stated ambition, with cuts to the grant further undermining industry's ability to deliver this ambition, the SMMT said.
In the year to date, the overall new car sector remains down 7.2% on the same period last year, albeit with more than two million new cars registered in the first 10 months of 2018. Pending no further market disruption, some pull-back is hoped for during the remainder of the year as current supply issues ease, enabling manufacturers to cater for pent up demand on certain models.
Mike Hawes, SMMT Chief Executive, said: "VED upheaval, regulatory changes and confusion over diesel have all made their mark on the market this year so it's good to see plug-in registrations buck the trend. Demand is still far from the levels needed to offset losses elsewhere, however, and is making government's decision to remove purchase incentives even more baffling.
"We've always said that world-class ambitions require world-class incentives and, even before the cuts to the grant, those ambitions were challenging. We need policies that encourage rather than confuse. Government's forthcoming review of WLTP's impact on taxation must ensure that buyers of the latest, cleanest cars are not unfairly penalised else we will see older, more polluting cars remain on the road for longer."
Justin Benson, Head of Automotive at KPMG UK, also drew attention to continuing structural shifts to demand, especially the decline of diesels: "The UK's automotive sector is in a transition phase. We are seeing a rebalancing of consumer demand, as new regulations and the perception of diesel are driving different consumer behaviours, with some moving away from diesel vehicles," he said.
"However, those looking to change their vehicle may not want to rule out new diesel models, some of which are producing fewer toxic emissions than their petrol counterparts. These vehicles will be a viable choice for consumers for some time, particularly as the deals on offer continue to be attractive."