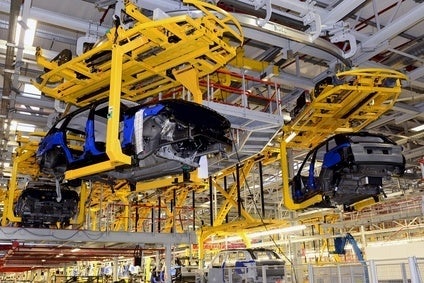 British car factories have achieved their best half year output since 2008, the Society of Motor Manufacturers and Traders (SMMT) announced.
The tally rose just 0.3% year on year to 793,642 cars.
June volume was up 5.4% to 143,759 with export production up 9% offsetting a domestic market downturn of 7.1% – a reversal of the trend seen in previous months.
UK automakers are also very productive, the SMMT said. New data revealed the sector achieved GBP100,000 in value added per employee in 2014 compared with GBP74,000 in 2010 – a 35% increase. This compares with GBP50,000 average per employee for the UK economy as a whole.
SMMT chief executive Mike Hawes said: "Today's figures are testament to the ever increasing demand for the diverse, high quality range of cars we make in the UK. The sector is ahead of the game on productivity, with investment in efficient, high tech manufacturing processes and a highly skilled workforce resulting in huge gains over the past decade.
"This success has been built on significant industry investment and has also relied on a positive relationship with government, essential if the industry is to maintain its international competitiveness."