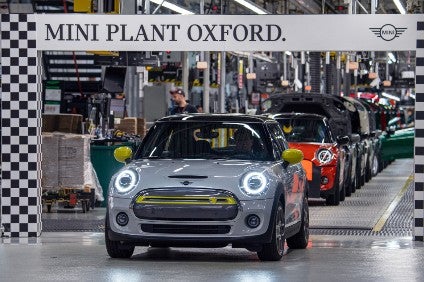 BMW's Plant Oxford in the UK said it had hit "a significant milestone" by building over 11,000 electric Minis since production began just before the plant's annual summer shutdown.
Announced a year ago, during the brand's 60th anniversary year, the first all electric model (discounting a small batch of trial models years ago) is fully integrated into the production process at Oxford, running down the same line as the combustion engine models.
Since its launch, over 3,000 orders have been placed for the EV version in the UK.
The Electric joined the Countryman PHEV which is built under contract in the Netherlands.
oth models have proved extremely popular in the UK and together account for 19% of worldwide electrified Mini sales. A quarter of all UK Countryman orders are for the PHEV.
The growth in popularity of EVs means that next year, a third of three-door hatch models built at Oxford is expected to be the EV.