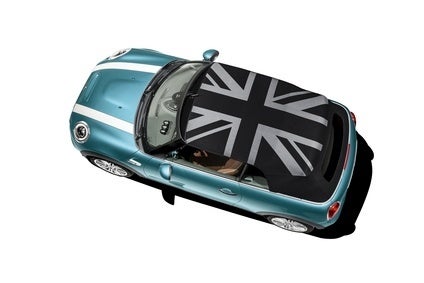 BMW's Mini luxury small car brand has introduced a redesigned convertible with improved, faster retracting and customisable fabric hood, boot (trunk) volume increased 25%, and increased rear seat passenger space. Right hand drive sales start with the UK from March 2016.
This is the third generation car after the first in 2004 and second in 2009 and, like its predecessors, trim levels, powertrain options and standard and optional equipment are similar to the hatchback models. Mini is also currently launching its redesigned Clubman variant worldwide and has rejigged sourcing for the redesigns – the Clubman will continue to be produced at the main plant Mini in Cowley, England, where second generation output ended in August 2014 but convertible assembly, which finished only last May at Plant Oxford, has been moved to contractor NedCar in the Netherlands, which already does 'overflow' hatchback assembly, using body panels shipped from BMW's Swindon pressings factory and engines from the factory at Hams Hall, near Birmingham.
The cabriolet model remains the only premium, soft top, four seat convertible in the small car segment, and the UK remains the largest market worldwide for it. New features, apart from a fully electric roof that is quieter and smoother than the previous model, include a fully integrated rollover protection system. For the first time, the rollover protection elements are integrated and completely invisibly. As soon as the car detects the risk of a rollover, two protection bars made of high-strength aluminium retract within 150 milliseconds by means of a pyrotechnical trigger. Combined with the convertible-specific reinforced windscreen frame, this forms a stable survival space for vehicle occupants.
As before, the front roof section can also be retracted by up to 40cm, sunroof style, and at any speed. The full soft-top can be opened and closed at speeds of up to 18 mph using either a toggle switch on the front roof frame, or when is stationary, a button on the remote key. A button in the driver's door trim allows for simultaneous opening and closing of all four side windows.
Cooper and Cooper D versions are 3,821mm long, and the Cooper S 3,850mm. All are 1,727mm wide, 1,415mm high on a 2,495mm wheelbase. Those measurements are up versus the outgoing model, with 98mm extra length, 44mm extra width and 1mm of extra height. The wheelbase is 28mm longer and tracks wider by 42mm at the front and 34mm at the rear.
Front seats have a wider range of adjustment and rear passengers get easier access, more headroom, a longer seat surface and improved lateral support. The design of the new rear more clearly defines the two individual seats. Luggage volume has expanded by around 25% to 215 litres with the roof closed and 160 litres with top down.
Standard equipment across the UK range includes 'Visual Boost Radio' with 6.5-inch screen, Mini Connected telematics, Bluetooth connectivity with USB audio, rear parking distance control and a reversing camera.
As with all BMW Minis since the 2001 original, individual buyer personalisation is offered and encouraged. New options include a claimed industry-first Union Jack [UK flag] design woven into the 'Mini Yours' fabric roof, two new exterior colours and a new Chester brown leather interior colour option.
The line will launch with two petrol engines and a diesel priced from GBP18,475. The petrol engines for Cooper and Cooper S versions are 1.5-litre I3 and two-litre I4 respectively with turbocharging, direct fuel injection with centrally positioned injectors, variable camshaft control on the intake and exhaust side (double VANOS) and fully variable VALVETRONIC valve control technology. The 1.5-litre I3 diesel in the Cooper D has turbocharging with variable intake geometry and common rail direct injection.
Six-speed manual transmission is standard with a gear sensor that enables active engine speed adaptation for 'sporty shifting' when accelerating and claimed increased comfort when shifting down. Six-speed Steptronic transmission is optional and steering wheel-mounted shift paddles are optional for the Cooper S. Both automatic variants have a transmission control system that is able to draw on navigation data to aid gear and shift-point selection.
Variable damper control is a new option for this third generation model.
The Mini Connected app has additional features such as Streetwise which provides the driver with tips for the optimum route before the journey gets underway. A SIM card can be fitted permanently allowing Intelligent Emergency Call with automatic detection of vehicle location and accident severity notification, as well as Mini TeleServices.