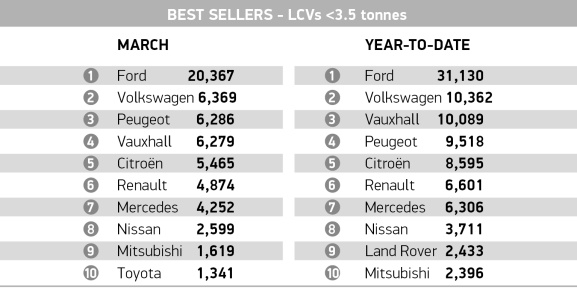 New van sales rose 3% year on year in the first three months of 2016, according to the Society of Motor Manufacturers and Traders (SMMT).
The 63,913 registrations made in the month accounted for about two thirds of the quarter's total volume with almost 99,000 new light commercial vehicles (LCVs) sold year to date – up 1.2%.
The trend towards heavier vehicles continued, with a substantial 14.2% rise in the 2.5-3.5-tonne segment last month, counteracting a decline in registrations of vans weighing less than 2.5 tonnes. The 3.5-6-tonne truck sector saw registrations fall slightly by 1.9% while demand for pickups rose 5.3% in March.
Mike Hawes, SMMT chief executive, said: "Traditionally one of the busiest months of the year for the new British van market, March's new 16 plate gave a welcome boost, closing the first quarter on a positive note after a more subdued start to the year. Following the sector's record performance set in 2015, we expect to see steadier growth over the coming months."