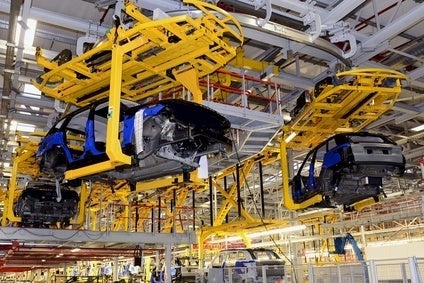 Jaguar Land Rover (JLR) has taken a step towards increasing its production capacity in Europe with the signing of a letter of intent for a new vehicle production plant in the Slovak Republic.
The capacity constrained company has been considering options for expansion at a number of countries in Central and Eastern Europe, with Poland also in the running.
Under the letter of intent signed with the Slovak government, a feasibility study will be undertaken with a final decision taken this year on a plant that JLR said could be operational by 2018.
The feasibility study will explore plans for a factory with an installed capacity of up to 300,000 vehicles over the next decade. As part of Jaguar Land Rover's commitment to deliver more lightweight vehicles, it says the plant would manufacture a range of aluminium Jaguar Land Rover vehicles. It is anticipated that the first cars will come off the production line in 2018.
JLR said that following robust analysis of a number of locations including Europe, the United States and Mexico, Jaguar Land Rover has selected Slovakia as its preferred location. It is close to a strong supply chain and good logistics infrastructure. Subject to the outcome of the feasibility study, a final decision is expected later this year.
Robert Fico, Prime Minister of Slovakia said: "The Slovakian Government is delighted to be selected as Jaguar Land Rover's preferred location for this feasibility study.
"We are committed to developing Slovakia's premium automotive industry and, should we be successful, this investment would represent a significant step forward in achieving this. It would provide a boost to our country's wider industrial strategy as well as benefitting the European Union as a whole.
"We look forward to working closely with Jaguar Land Rover over the coming months to progress the negotiations."
Dr Ralf Speth, CEO of JLR said: "The expansion of our business globally is essential to support its long-term, resilient growth. As well as creating additional capacity, it allows us to invest in the development of more new vehicles and technologies, which supports jobs in the UK.
"With its established premium automotive industry, Slovakia is an attractive potential development opportunity for us. The new factory will complement our existing facilities in the UK, China, India and the one under construction in Brazil."
Slovakia – an EU member state – is well located in central Europe with a number of OEMs making vehicles in plants there, including VW Group, Kia and PSA. It has also attracted investment from a number of Tier 1 suppliers, including Magna, BorgWarner and Akebono Brake and Visteon. Its developing supplier sector comes with relatively low costs and good access to Western Europe's market.
See also, from last month: POLAND: Jaguar Land Rover in talks for Eastern Europe plant – reports
Engineering strategy and the move into aluminium: ANALYSIS: Jaguar's XE spearheads new industrial strategy