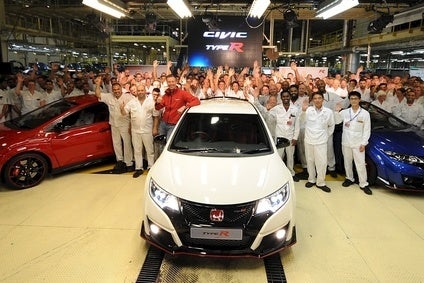 Honda Motor Company CEO, Takahiro Hachigo, on Monday (6 July) said the latest British built, Civic Type R five door hatchback would be exported to Japan with the first cars reaching showrooms this autumn.
Philip Ross, senior vice president for Honda Motor Europe, said: "We're delighted the European Civic Type R will be sold to customers in Honda's home country of Japan. Customers are really excited about this car and we're developing a significant order bank here in Europe. Exporting the car to Japan will only serve to increase demand further, which is great news."
The first three production cars came off the line at Honda of the UK Manufacturing (HUM) in Swindon, Wiltshire, last week, painted in "patriotic" British red, white and blue.
At the 'job one' ceremony, HUM managing director, Soichiro Takizawa said: "The new Civic Type R is a significant model for Honda. We are extremely proud to be the only manufacturer of the Civic Type R in the world. Our high standards have earned us this privilege."
Honda's US unit last April unveiled a production ready 'concept' of the 10th generation 2016 Civic at the New York motor show. The US range will include a UK sourced five door hatchback for the first time as well as the US and Canadian produced sedans and coupes that have been North American market mainstays for years. The sporty Si and Type R versions will also be offered in the new line which will be the first Honda model to offer new VTEC Turbo engines in North America.
Honda announced late last year its Alliston plant in Canada would be lead factory for the redesigned Civic but also said the Swindon plant would become a global hub for the next generation five-door hatchback versions.
The automaker last week said the Type R line-off "topped a very positive few months for HUM". Takizawa spoke of renewed optimism for the plant – regarding it as a major milestone and testament to the knowledge and experience of staff who have been building Civics at the plant for over 20 years.
He added: "We are extremely proud to be the only manufacturer of the Civic Type R in the world. Our high standards have earned us this privilege and this is testament to the continued commitment of our associates."
The Type R will be promoted as a 'race car for the road' with its new, high-revving two litre VTEC turbo engine, uprated suspension, styling tweaks and driver selectable '+R' track mode. Peak output is 306bhp, with the engine red lining at 7,000rpm, and top speed is a claimed class leading 167mph.
The Type R will be built exclusively at HUM. The earlier announcement the plant would become the global production hub for the Civic five door line will see a further spend of GBP200m, bringing total investment to GBP2.2bn since 1985 "confirming Honda's long-term commitment to manufacturing in the UK and Europe", the automaker said.
Swindon, established initially as a pre-delivery centre and, subsequently, as a petrol engine plant, began Honda car production, mainly for Europe, in 1991. Over the years it has shipped Civic three-door Si hatchbacks to North America and Type R variants to Japan. More recently, it has made petrol CR-V SUVs for North America and, most recently, petrol and diesel Civic hatchbacks plus manual and automatic diesel CR-Vs for Australia and New Zealand (petrol models come from Thailand). Diesel CR-V production for both markets stopped last year, however.
See also: JAPAN: New Honda chief sets out vision