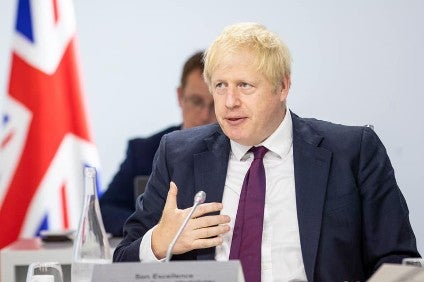 As reported earlier this week, the UK government has confirmed its intention to ban the sale of new petrol and diesel cars and vans in 2030.
The UK prime minister Boris Johnson set out the plan as part of a ten-point green vision. The government will establish a 'Task Force Net Zero' committed to reaching a net zero contribution to climate change target for the UK by 2050.
Following 'extensive consultation with car manufacturers and sellers', the prime minister confirmed that the UK will end the sale of new petrol and diesel cars and vans by 2030, ten years earlier than previously planned. However, there's a concession to the industry on hybrids. "We will allow the sale of hybrid cars and vans that can drive a significant distance with no carbon coming out of the tailpipe until 2035," the government's statement said.
As part of the electric vehicle push, some GBP1.3bn will be spent to accelerate the rollout of chargepoints for electric vehicles in homes, streets and on motorways across England. There will also be GBP582m made available in grants for those buying ultra-low emission vehicles and almost GBP500m spent in the next four years for the development and mass-scale production of electric vehicle batteries (the so-called UK 'gigafactory').
The UK government will also launch a consultation on the "phase out of new diesel HGVs to put the UK in the vanguard of zero emission freight". That's likely to be very challenging and no date has been set yet.
The SMMT said the 2030 date set an 'immense challenge' but welcomed the longer transition period for hybrids and said success will depend on reassuring consumers that they can afford these new technologies.
Mike Hawes, SMMT Chief Executive, said: "We share government's ambition for leadership in decarbonising road transport and are committed to the journey. Manufacturers have invested billions to deliver vehicles that are already helping thousands of drivers switch to zero, but this new deadline, fast-tracked by a decade, sets an immense challenge.
"We are pleased, therefore, to see Government accept the importance of hybrid transition technologies – which drivers are already embracing as they deliver carbon savings now – and commit to additional spending on purchase incentives. Investment in EV manufacturing capability is equally welcome as we want this transition to be 'made in the UK', but if we are to remain competitive – as an industry and a market – this is just the start of what's needed.
"Success will depend on reassuring consumers that they can afford these new technologies, that they will deliver their mobility needs and, critically, that they can recharge as easily as they refuel. For that, we look to others to step up and match our commitment. We will now work with government on the detail of this plan, which must be delivered at pace to achieve a rapid transition that benefits all of society, and safeguards UK automotive manufacturing and jobs."
See also: 2030 combustion engines ban requires joined-up thinking