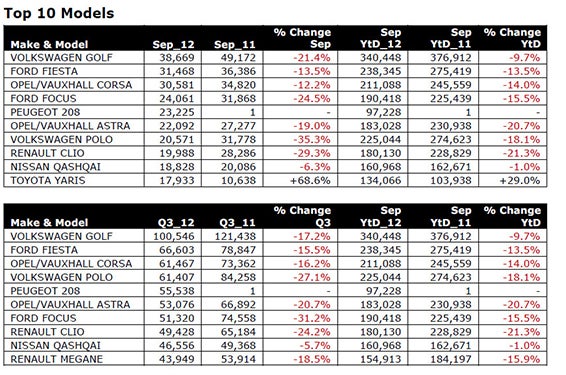 Sales figures for the European car market released by JATO show that the VW Golf retained its position as the top selling model in the third quarter despite a 17% decline in sales versus last year.
The JATO data also showed that Audi was the only brand to end Q3 2012 with a quarterly sales increase on the same period last year – up 6%. Audi is getting a boost from sales of its new Q3, A6 and A1 models.
BMW and Audi were also the only brands in the top ten to record a sales increase in September, up 9.0% and 0.2% respectively compared to last year.
Toyota is just outside the top ten with its 2.7% increase in Q3 sales bolstered by the new Yaris. Hyundai, Kia, Honda, Land Rover and Subaru also recorded strong sales increases in last quarter following the launch of new and revamped models from these brands, JATO said.
The Volkswagen Golf still leads the European market, despite sales for the quarter falling by 17.2% compared to 2011. Considering the current model is at the end of its lifecycle, with the new model Golf due within weeks, this is an impressive performance, JATO noted. The Ford Fiesta came in second with the Opel/Vauxhall Corsa third.
Toyota's new Yaris rounds off the top ten European models in September with an impressive 68.6% increase in sales last month, compared to September 2011.
Outside the top ten new or revamped models, such as the Hyundai i20, Kia's Rio and new Cee'd, Honda's new Civic, Land Rover's Evoque and Subaru's new XV, all saw improved sales compared to September 2011.
See also: BELGIUM: Renault takes a battering on plunging car markets
UK: West European car market down 11.4% in September Europe