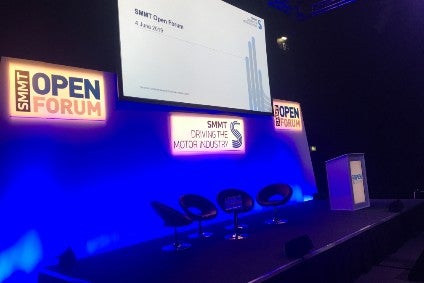 UK trade body, SMMT says Britain has committed to retaining the European Commission (EC) CO2 reduction guidelines once the country leaves the European Union (EU).
SMMT (Society of Motor Manufacturers and Traders) chief executive, Mike Hawes made his comments at the organisation's Open Forum event at the Automechanika exhibition in Birmingham yesterday and as the UK continues to search for a way to leave the EU, now postponed to 31 October this year.
Britain's exit has been mired in almost constant controversy and is now further complicated by Prime Minister, Theresa May's decision to step down, triggering an imminent leadership election, which could throw yet more uncertainty onto the process.
However, it looks as if at least the 95g CO2 target will be retained as London seeks to transfer hundreds of pieces of EU legislation into UK law.
"[Environment Secretary] Michael Gove said environmental legislation would be at least as tough post Brexit," Hawes told just-auto on the sidelines of the Open Forum conference in the UK's second city of Birmingham. "The industry is going in that direction anyway.
"If you take a step back the EC did a full impact assessment and arrived at 30% [reduction]. That was going to be incredibly challenging. The Committee on Climate Change [also] says there will [job] impacts…we have to give this industry time.
"To be able to hit the target of 95g by 2021 you need to improve the average fleet CO2 by around 8% per annum. What the government has said, if we, when we leave Europe, they will lift that legislation and paste it into UK legislation. That will be a national target of 95g. The industry is going towards zero emissions and legislation is pushing that incredibly hard.
"We want the UK automotive industry to be able to make that change and continue to invest."
As the UK, along with many other European countries, increasingly looks to adopt low or zero emissions mobility, part of the challenge remains improving the relatively low level of infrastructure to cope with it.
Britain currently has around 16,000 EV charging points around the country, but needs 200,000 to address what may be a more rapid uptake of alternative propulsion compared to today.
The SMMT chief did not rule out diesel playing its part either in the drive to lower emissions, despite the fuel receiving a bad press for the past few years.
"There is a role for diesel, we need diesel on the downward path to CO2 emissions," added Hawes. "The UK wants to be at the forefront in the take up of these vehicles [EVs]; yes the industry can shift towards electrification but there are significant political decisions to get there.
"The more quickly we go, we need to make sure industry can manage that transition from internal combustion engines to electrified powertrains."
The SMMT noted connected and autonomous vehicle development was estimated to create 420,000 new jobs and generate GBP62bn (US$79bn) of economic growth.
Delegates at the Open Forum also heard presentations from representatives of Bosch, the Faraday Institution, Unipart, Yasa Motors and Autocraft Solutions, while McLaren Automotive also delivered an address.
The UK is heavily involved in the development of the next generation of battery technology, with collaboration between industry, adjacent sectors and government.
The Department for Business, Energy and Industrial Strategy recently announced a GBP28m investment to support the development of battery technology at the new Coventry Battery Industrialisation Centre, targeted as a centre of excellence and creating highly skilled jobs and delivering practical training to workers.
The commitment is part of the government's Industrial Strategy's Challenge Fund and comes on top of an initial GBP80m investment in the Centre.