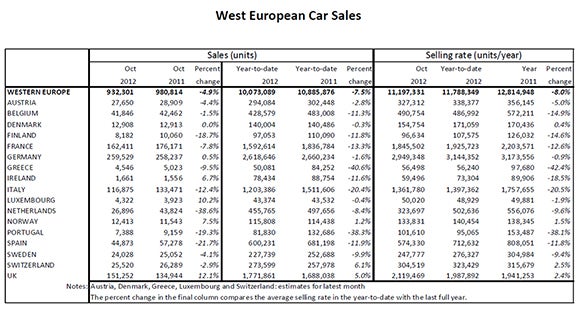 Car sales in Western Europe fell by 4.9% in October under the weight of Europe's economic problems, according to data released by LMC Automotive.
The analysts at LMC noted that the second half of 2012 is proving to be even worse than the first half of the year for the West European car market.
In Seasonally Adjusted Annualised Rate (SAAR) of sales terms, the car market stood at just 11.2m units a year as the market continues struggle against the current economic headwinds.
A look across the major national markets provides little cheer.
The French car market recorded the lowest selling rate since December 2008 last month at 1.85m units a year. Meanwhile, Italy recorded another sub-1.4m units a year selling rate.
While the German car market was up last month by 0.5% on last year, extra selling days in October of this year helped to mask the underlying downward trend. The year-to-date car market in Germany is down by 1.6%.
The Spanish car market remains decidedly weak, LMC said, though some respite is imminent with the new scrappage incentive.
The one main bright spot is the UK car market. In October, it was up by 12.1% on last year with an annualised sale rate of 2.1m units a year. LMC noted that the private side of the market is the real driver for growth, helped to an extent by improved consumer confidence from earlier in the year. There is also probably an element of buyers returning to the market having postponed new car purchase due to the economic turbulence over the last few years, LMC added.
LMC's forecast for 2012 is for an 8% drop to the West European car market followed by a further decline of 2.7% in 2013.