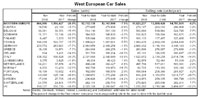 Car sales in Western Europe fell by 25% in November. The West European market slide continued in November with the selling rate dipping to 11.8m units a year, according to data released by JD Power Automotive Forecasting.
The data analysis firm said that there were fewer selling days than in November 2007 yet, with a year-on-year decline of 25% for November of this year, it is clear that the calendar effect has been swamped by the impact of recession.
Car sales in Spain fell by a massive 50% in November prompting JD Power to speculate that the 2009 Spanish market could be half the size of the 2007 market.
Car sales in Germany fell by 17.7% in November. This, JD power said, raises the real possibility that the market may plunge to modern-era lows in 2009, compounding difficulties caused by the already weakened market. The forecast for Germany in 2009 is for a sales decline of 8%.
French car sales were in line with expectations in November, with a selling rate a little under 2.0m units a year.
Italian sales fell back, but were in line with expectations JD Power said — sales were down by 30% year-on-year. Calls for a renewed incentive for the market have been heard again.
UK sales (down 36.8% on last year) in November continued to show 'profound weakness' underscoring the likelihood of a large fall in sales in 2009. Difficult credit conditions are making the situation worse than the already much-weakened underlying level of demand suggests — retail demand was the hardest-hit sector of the market as consumers continue to retrench, JD power said.
JD Power is forecasting that the Western Europe car market this year will turn out at 13.58m units, 8.3% below last year. In 2009, a further decline of 11.6% to 12m units is forecast.