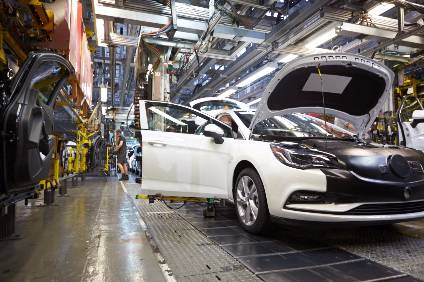 British car manufacturing declined for the ten month in a row in the month of March, with output down for both the domestic and export markets.
The SMMT said that March car production was 14.4% down on last year at 126,195 units built.
Production for both home and overseas markets declined in double digits, down 18.1% and 13.4% respectively. The SMMT said that soft demand in key Asian and European markets was a significant factor, coupled with model changes and shifting car segment preferences globally. Although UK exports fell in March, they increased their share of overall production year-on-year to 78.7%.
The SMMT said the latest independent production forecast – from AutoAnalysis – predicts that the UK car industry will produce 1.36m units this year, down from 1.52m in 2018 before rising to 1.42m by 2021. That forecast assumes the UK leaves the EU with a transition period maintaining the status quo in trade arrangements between Britain and the EU.
However, should Britain crash out of the EU and fall back on WTO rules for a sustained period, output is forecast to fall around 30% on recent levels to just 1.07m units by 2021, a level described as 'consistent with the dark days of the mid-1980s'.
Mike Hawes, SMMT Chief Executive, said: "Despite the extension [to the UK's planned departure from the EU], the Brexit clock is still ticking and a devastating 'no deal' remains a threat. This new period of limbo does not end the havoc for industry, with investment stopped and expensive factory shutdowns moved to avoid a Brexit deadline that has itself now moved. Just a few years ago, industry was on track to produce two million cars by 2020 – a target now impossible with Britain's reputation as stable and attractive business environment undermined. All parties must find a compromise urgently so we can set about repairing the damage and diverting energy and investment to the technological challenges that will define the future of the global industry."
Stuart Apperley, director and head of UK automotive at Lloyds Bank Commercial Banking, said: "The sector's problems amount to more than the immediate uncertainty around the UK's future trading relationship with its closest partners.
"UK carmakers continue to invest in electric vehicles but their stalling sales and regulations on diesel engines are damaging confidence in the sector.
"March's dip in new registrations, traditionally a strong date in the diary for manufacturers due to the number plate changeover, provided a snapshot of the health of the wider economy.
"At a time of such uncertainty evidence of weaker demand in the UK and softening international markets across the Eurozone and Asia doesn't make for a compelling case for increases in either investment or production levels. The industry has proven itself resilient in the past and will do so again but until more clarity on its future is established consumer confidence will remain a worry."
"With sales down, production down and investment virtually non-existent, it's a challenging time for UK automotive."
Justin Benson, Head of Automotive at KPMG UK also drew attention to the need for a conclusion on Brexit. "With sales down, production down and investment virtually non-existent, it's a challenging time for UK automotive," he said. "For the industry to get back on the upward curve and improve inward investment sentiment in the UK, four things are needed: a conclusion on Brexit; continued focus on customer experience; close control of costs; and, renewed vigour for exports to increase the UK's share of the global market."