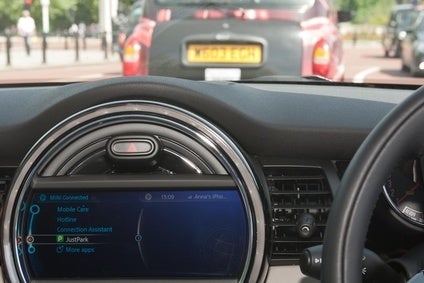 BMW's Mini is claiming a world first – dashboard access to the JustPark service that enables drivers to reserve parking direct from the car.
Once registered, JustPark app users can find, book and navigate to one of about 100,000 parking spaces across the UK.
Drivers can choose whether to input their final destination or search for parking while driving. Parking spaces are in locations ranging from car parks and hotels to homes and pubs and the app, which works through Mini Connect, includes location details, pricing and user reviews. Following selection, the car's navigation system locates the parking space.
Mini Connected is standard on UK market cars. Access, requiring an iPhone or only specific Android phones, may be limited for some users.
The app was tested by BMW in Munich. It is the latest product of a partnership between JustPark and i Ventures, the venture capital arm of BMW that invests in startups working to improve mobility in urban areas. iVentures took a stake in JustPark – formerly known as ParkatmyHouse – in 2011.