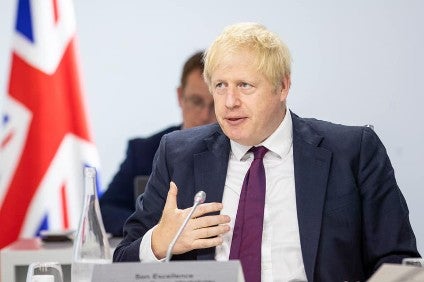 JCB says it has been approached by British Prime Minister, Boris Johnson asking whether or not the manufacturer could transfer some of its skills to ventilator production as the coronavirus pandemic increasingly concentrates European governments' minds.
Reports note Rolls-Royce, Ford and Honda have also been sought out to see if they could contribute, as the UK dramatically increased its advice last night (16 March) to its citizens to avoid all non-essential travel as well as not frequenting restaurants, pubs and theatres in a bid to introduce so-called social distancing to the British psyche.
"We have been approached by the Prime Minister to see if we can help with the production of ventilators," said JCB chairman, Lord Bamford in a statement sent to just-auto.
"We have research and engineering teams actively looking at the request at the moment. It's unclear as yet if we can assist, but as a British company, we will do whatever we can to help during the unprecedented times our country is facing."
The UK is putting itself on a footing more akin to that of wartime than peace, as the country, in common with other European nations, desperately seeks to flatten the curve of coronavirus cases.
In comments released by the British Department of Health and Social Care, Secretary of State for Health, Matt Hancock said:
"We take further action, with a call to arms for a drive to build the ventilators and other equipment the NHS will need. We are better equipped thanks to the NHS than most other countries, but we will need many more. We now need any manufacturers to transform their production lines to make ventilators. We cannot make too many.
In the near future we will take further steps. SAGE has advised the next planned effective interventions will need to be instituted soon, including measures to 'shield' older and medically vulnerable people from the virus. Our generation has never been tested like this. Our grandparents were, during the Second World War, when our cities were bombed during the Blitz. Despite the pounding every night, the rationing, the loss of life, they pulled together in one gigantic national effort.
"Today our generation is facing its own test, fighting a very real and new disease. We must fight the disease to protect life. Everyone will be asked to make sacrifices, to protect themselves and others, especially those most vulnerable to this disease.
"With our clear action plan, listening to the advice of the best science, and taking the action we all must, I am sure we will rise to this challenge."