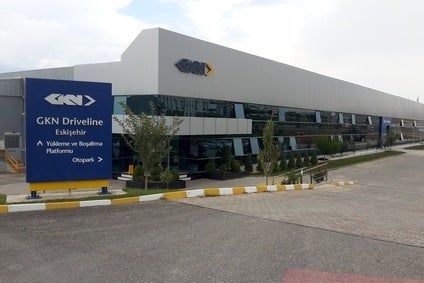 GKN Driveline says it has expanded production capacity at its Eskisehir plant in Turkey to meet growing demand from automakers located in the country.
GKN Driveline Eskisehir supplies a number of car manufacturers in Turkey, including Ford, Renault, Honda, Fiat and Toyota. It began operations in 2009.
A new manufacturing facility at the GKN Driveline Eskisehir plant will more than double the plant's total size to 6,300 square meters, increasing driveshaft production capacity to 1.8m units per year.
As part of the EUR4.5m investment programme, GKN Driveline Eskisehir has added an assembly line, as well as expanding warehousing facilities. Located on a 9.5 acre site, the plant currently employs 130 people, with plans to increase that by 70 over the next five years.
GKN Automotive Chief Executive Andy Reynolds Smith stressed the importance to GKN of its growing operations in Turkey. "Turkey is a growing market for GKN Driveline and this expansion will enable us to meet the emerging needs of our customers," he said. "GKN prides itself on its global footprint and this new facility demonstrates our committment to expansion in our key markets, and to invest in our business to ensure customers continue to receive excellent service."
Gökhan Piskin, incoming GKN Driveline Eskisehir Plant Director, said: "GKN has great confidence in Turkey's automotive sector. Turkey produced approximately 1.1m light vehicles last year, a figure that is forecast to rise by nearly one third in the coming years, so the future is very exciting. A number of the world's major car manufacturers are located in the country, including FCA, Ford, Honda, Hyundai, Renault and Toyota, and many have committed to further growth in this emerging automotive manufacturing hub."