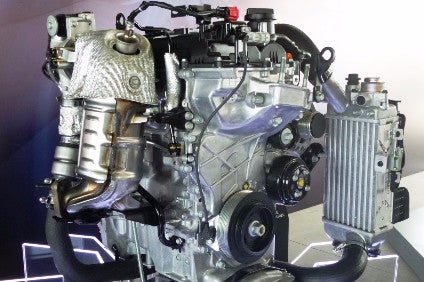 Turbo charging a one-litre, three-cylinder engine is a growing trend here in Brazil.
Turbocharging itself is not a novelty here – back in 2000 VW offered the 110-bhp, one-litre, four cylinder Gol Turbo. In July last year VW introduced the turbocharged, direct-injection 3-cylinder, one-litre ethanol/petrol Up TSI [just being launched with the facelift here in Europe – ed], for both performance and outstanding fuel economy.
Hyundai's answer came late in April with the HB20. The one-litre, three-cylinder turbo engine imported from South Korea is also flex-fuel and its 103.6bhp power matches that of the Up when ethanol-fuelled but falls short on torque. This results from port injection rather than direct although there is a DI version for other markets. The DI absence retained the need of the archaic petrol feed to aid starts in cold weather when running on ethanol, a solution that is dated even for naturally-aspirated engines.
A solution harmonising performance and fuel consumption has just been introduced for the Fiesta. Imported from Romania, the petrol-only I3, one-litre EcoBoost develops 123.3bhp and 125lbf·ft. It is faster than its higher-displacement, naturally-aspirated 1.6 litre Sigma sibling (still in production in Brazil) in all situations.
Highlights are idle speed quietness and low vibration. The Ford compact outpaces all three-cylinders of the market in this respect. The automaker states truly good fuel economy: 24 mpg city and 36 mpg motorway (US gallons) on a test procedure more severe than Europe's NEDC. The engine comes only with with the Getrag six-speed dual clutch automated gearbox which is somewhat lazier in gear changing than the others of its kind.
Retail price has led to many discussions. The Fiesta EcoBoost is priced at BRL71,990/US$21,200 with top Titanium Plus trim only. Ford is expecting 10% of Fiesta buyers (whose sales slumped since the Ka was launched almost two years ago) to go for the new engine.
Turbocharged one-litre, I3 engines soon also will power the Brazilian Golf and, quite probably, the Focus. The road ahead is clear.