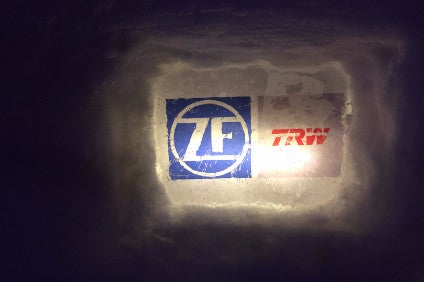 ZF says the newly-acquired TRW division name will gradually cease to feature in formal branding within the next two to three years.
The German supplier acquired its US component counterpart in May last year, creating a potential US$30bn company and placing the merged operation at the number three spot in global parts manufacturers.
Having spent the past seven months integrating various aspects of the two companies, ZF will gradually focus more on establishing the pre-eminence of its name in the next few years to create the fused business, which will see 138,000 staff work in 40 countries around the world.
"In the naming of the division, then no, I would envision a couple or three years, we would see that transitioning ZF TRW device disappear," ZF TRW board member and EVP Sales and Business Development, Peter Lake told just-auto at the component producer's winter test track in Arvidsjaur, Northern Sweden.
"TRW would be no longer and we would be seeing more integration by that time. The division as it exists today, will not.
"This is all complementary technology. We will have some different strategic alignment."
Lake added he also didn't foresee job losses arising from the mega merger and was not ruling out further future acquisitions, but for the moment the supplier is concentrating on bedding in the TRW division.
The fusion of both companies comes at a frenetic time for the automotive supplier industry, which is looking to capitalise on the vast challenges and opportunities offered by the prospect of autonomous driving, replete with its myriad associated legislative headaches, as well as the chance to significantly cut passenger fatality rates.
"We have identified three megatrends, but they are not mutually exclusive," added Lake, who also noted ZF was mindful of a constantly evolving regulatory environment whose forensic focus on emissions and safety was not going to diminish.
"Clearly, in developed markets, we learn lessons and every time we learn a lesson, there is something new we need to adopt," said Lake. "An industry becomes old and staid if it does not continuously change itself and raise the bar.
"Suppliers themselves are always raising that bar. These megatrends and safety, anything that makes vehicles pragmatically and practically more safe has to be [a] goal."
At the Arvidsjaur track, just south of the Arctic Circle, ZF TRW was highlighting its braking and steering control systems, with the former technology being demonstrated on a prototype SUV as well as a range of passenger cars.
The supplier also showcased its integration of front and rear axle steering, using a mainstream prototype vehicle as a concept study, combining dual pinion EPS on the front with AKC (active kinematic control) on the back.