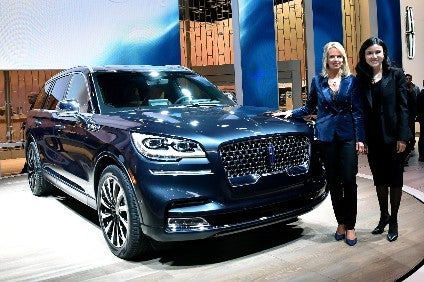 Ford wants to dodge Chinese tariffs on US-built vehicles imposed as a result of president Donald Trump's trade war by speeding plans to build luxury Lincolns in the world's biggest car market.
Ford, which had planned to start production with a local partner late in 2019, is trying to move that timing up.
"What we want to do is accelerate that," Joy Falotico, head of Lincoln and Ford's chief marketing officer, told Bloomberg in an interview.
"We will look for opportunities, but it's a big undertaking and I think it won't be a significant change in our plans."
Lincoln lacks the local production most of its competitors have in China. Prices have soared as a result of the 40% tariffs the country has put on US-built vehicles. Ford is absorbing some of those costs, but Lincoln's sales have still slowed to a crawl, Bloomberg said.
Falotico spoke to Bloomberg ahead of the unveiling of the three-row Aviator at the Los Angeles Auto Show on Wednesday. The model – one of three sport-utility vehicles Lincoln is launching in China – will go on sale in the second half of next year in the country, as well as in the US.
Bloomberg noted Ford chief executive officer Jim Hackett has said Trump's metals tariffs would cost the automaker about US$1bn in annual profit. In August, the company scrapped a plan to export the Focus Active from China to the US. Several of the automaker's top executives have called for Trump to resolve his trade dispute with China.
Lincoln is also reconsidering plans to export Chinese-built models back to the US, Falotico told Bloomberg. Instead, the automaker will likely build the same models in both countries.
"It's about ensuring our competitiveness with the pricing given the tariff headwinds," she said.
Bloomberg noted the fallout from the trade war had come at a bad time for Ford, which was pinning its hopes for growth on a country that it expects to become Lincoln's top market. After soaring 66% last year, China deliveries for the luxury line were up just 3% to the end of October, and slumped 6% last month.
According to the report, Ford still believes there's plenty of Chinese appetite for commodious SUVs, and Lincoln arrived in the market just four years ago, so the brand feels new there. It doesn't suffer from the negative image it has in the US – that of an aged airport shuttle for business travelers.
Lincoln recently introduced its mid-size Nautilus and updated compact MKC model SUVs at the Guangzhou show and expects to have 125 high-touch, tea-house style dealerships in China by the end of 2018.
Bloomberg said the Aviator was designed with Chinese tastes in mind. Ford lowered the door handles for the nation's comparatively shorter travelers and styled the second and third rows to be more opulent than the front seats, since many wealthy consumers in the country have chauffeurs.
To meet China's stringent new emissions rules requiring vehicles to be battery-powered, the most expensive version is a plug-in hybrid with an electric motor mated to a twin-turbo petrol engine. The combination of the two power plants gives the SUV 450 horsepower, on par with the Porsche plug-in Cayenne SUV.
"We're not trying to be a race car," John Davis, chief engineer of the Aviator, told Bloomberg in an interview. "But we know premium customers are really interested in performance, frankly, more than they're interested in fuel economy. And in this case, they get both."
Packed with technology like the ability to use your smartphone as the car's key and designed to resemble the downward slope of an airplane wing, the Aviator has the ability to propel Lincoln to "exponential growth" in China by 2020, Falotico said.
Ford is baking the cost of tariffs into its business plan, presuming they won't go away any time soon, Falotico told Bloomberg.
"We're planning that what we have today is what we need to build our business around," she said. "Any relief to that would be good news."