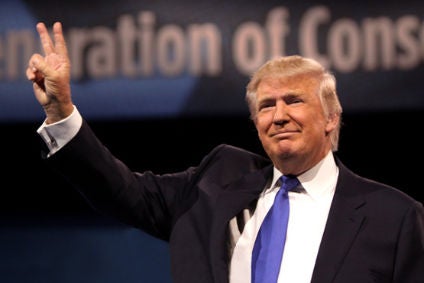 US President Donald Trump appears to have rejected overtures from the EU aimed at removing tariffs on automotive products traded between the US and EU. Trump made the remarks, which will reignite concerns over the potential impact of rising EU-US trade tensions on European automotive firms, in an interview with Bloomberg.
Trump also compared the EU's trade policies with those of China.
"It's not good enough," Trump said of the offer from the EU, adding: "Their consumer habits are to buy their cars, not to buy our cars."
"The European Union is almost as bad as China, just smaller," Trump also said in the interview.
Earlier this year Trump launched an investigation by the US Department of Commerce into whether auto imports pose a national security threat and has threatened to impose 20% tariffs on cars imported from the EU.
Bloomberg noted that Trump's latest comments follow EU Trade Commissioner Cecilia Malmstrom telling the EU Parliament that the EU would be "willing to bring down even our car tariffs to zero, all tariffs to zero, if the US does the same."
In July, a meeting between Donald Trump and European Commission President Jean-Claude Juncker, appeared to ratchet down tensions between the US and EU. The two sides agreed to open discussions about a trade agreement on industrial goods – but left out cars. Trump has set achieving zero tariffs, zero subsidies and zero non-tariff barriers for industrial goods as part of those talks.
Adding to business concerns over rising trade tensions, President Trump has also reportedly said that the US is ready to impose more tariffs on imported Chinese goods when a US consultation period ends next week.
European vehicle makers with plants in the US are already being negatively impacted by tariffs imposed by China on vehicle imports from the US as part of a round of tit-for-tat tariffs imposition on bilateral trade between the world's two largest economies.
Current auto tariffs between the US and EU:
EU passenger car imports from US = 10% (Common External Tariff – CET – applying to all non-EU fully built-up car imports)
US passenger car imports from EU = 2.5%
US truck imports from EU = 25% (the so-called 'chicken tax')
See also: Merkel backs reduced EU tariffs to avert trade war