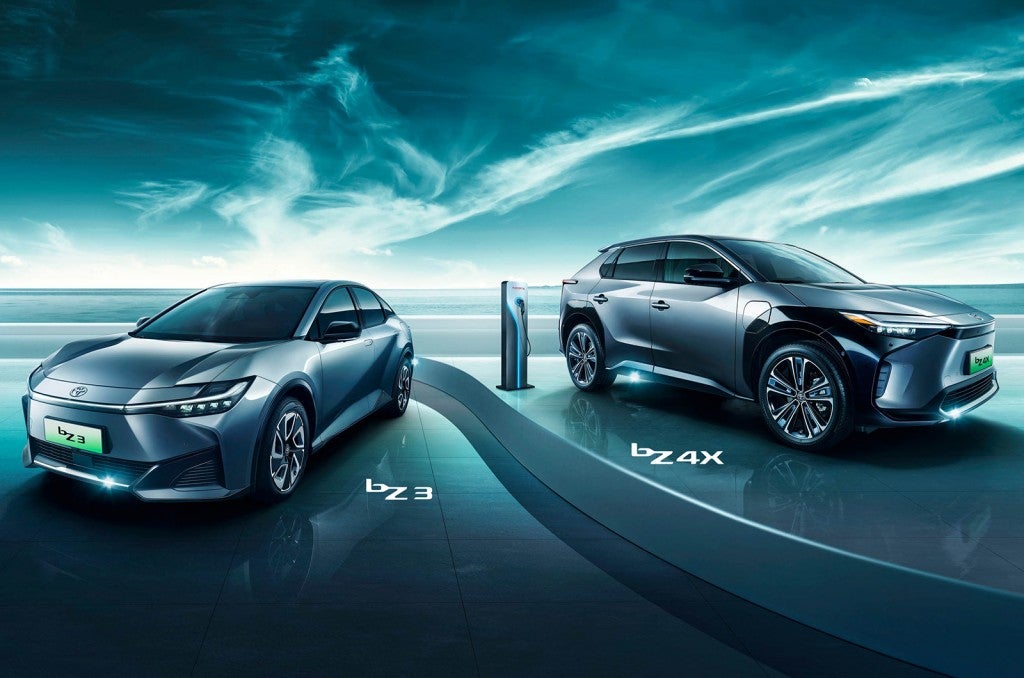 Toyota has unveiled its second model based on its new dedicated electric vehicle (EV) platform, the BZ3, a mid size sedan developed with two of its joint ventures in China, BYD Toyota EV Technology (BTET) and FAW Toyota.
Toyota said the BZ3 was developed mainly for China and would be produced and sold there by Tianjin-based FAW Toyota.
The automaker said 100 Toyota engineers from its design, production, engineering and quality control departments worked together with BTET and FAW Toyota engineers to develop the new model.
The BZ3 followed the worldwide launch earlier this year of the bZ4X EV SUV, built on the same e-TNGA platform, as the automaker begins to step up its transition to zero-emission vehicles. The BZ4X launch was marred by an embarrassing recall which forced a production suspension in Japan.
BYD, China's second largest battery manufacturer after Contemporary Amperex Technology, provides the BZ3's lithium iron phosphate (LFP) batteries giving a claimed range of 600km (370 miles) on a single charge.
Toyota said the battery structure, cooling, controls and safety monitoring systems were all developed specifically for the new car.
The automaker used in-house electrification expertise to reduce battery degradation which aims to ensure 90% battery capacity is retained after 10 years. The company claimed the e-TNGA platform's low centre of gravity helps provide a stable, responsive performance with excellent handling stability.
Toyota was said to be considering introducing factory innovations such as Tesla's giga press and stepping up collaboration with key suppliers such as Aisin and Denso to bring down the production cost of future models, allowing it to better compete in the EV segment with rivals such as Tesla.
One area understood to be of interest is to combine cabin air conditioning and electric powertrain temperature control systems to reduce energy consumption and costs while also reducing the weight and size of the battery pack.