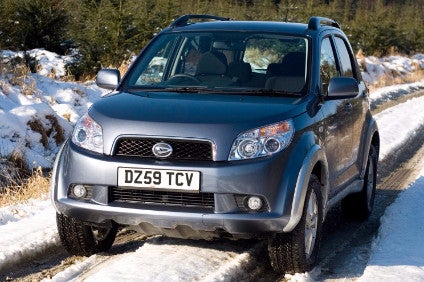 Daihatsu Motor, currently owned 51.2% by Toyota Motor Corporation, will become a wholly-owned subsidiary of TMC by way of a share exchange expected to be completed in August 2016, the pair announced on Friday (29 January).
"The purpose of the agreement is to develop ever-better cars by adopting a unified strategy for the small car segment, under which both companies will be free to focus on their core competencies," Daihatsu said in a statement.
"Ultimately, this will help Daihatsu and Toyota to attain their joint goal of achieving sustainable growth."
The statement said the would enhance the value of both brands.
"Although Toyota and Daihatsu will engage in friendly competition and maintain separate management styles that capitalise on their respective capabilities, bringing the two together under a shared strategy will enable them to jointly overcome otherwise prohibitive obstacles in the future, including
resource-intensive undertakings such as the development of next-generation technologies and entry into business areas with growth potential."
Toyota president Akio Toyoda said: "This is an opportunity for us both to stop feeling that we need to go it alone, and trust each other to take full advantage of our respective strengths. In other words, we can now focus on our core competencies. That, I believe, is the key to achieving and sustaining global competitiveness."
Daihatsu president Masanori Mitsui said: "I believe we have now found a course of action that will enable us to continue our growth for the next 100 years. We see this as the perfect opportunity to cement our relationship with Toyota, and, by doing so, to embark on a new period of growth, and to
elevate the Daihatsu brand to a global standard."
Key details
Under a joint strategy, Toyota and Daihatsu intend to combine their bases of operations in addition to sharing their respective areas of proficiency and technical expertise. This will leverage the advantages of both brands, allowing the development of attractive products that are competitive on a global basis.
Areas of strategic collaboration
In small cars, which in the past has often seen Daihatsu assembling Toyota-branded products, the differentiation between Toyota's and Daihatsu's brands will continue, and the product lineups of both will be optimised in accordance with customer preferences, with Daihatsu taking the lead in developing products offered within the small car lineups of both brands. At the same time, Daihatsu will continue to focus on developing vehicles aimed specifically at customers in the areas in which the brand already has a strong presence while also honing its expertise and processes related to product
planning and technological development for minivehicles.
In technology, both companies will share development and deployment strategies for new technologies from the initial conceptual stages. Toyota's focus will remain on technologies related to the environment, safety, user experience, and comfort, while Daihatsu will continue to leverage its aptitude for turning technologies into packages for vehicles, as well as developing cost- and fuel-efficient technologies. Daihatsu will also contribute to the development of next-generation technologies from the perspective of cost-efficiency and miniaturisation. The company's specialised car manufacturing expertise will be shared within the Toyota group, which will contribute to further enhancing the cost competitiveness of larger vehicles.
In operations, both companies will utilise each other's bases of operations in emerging markets. Daihatsu will take the lead in enhancing efficiency and adaptability in development, procurement, and production processes.
Within Japan, Toyota's sales expertise and infrastructure will be utilised by both companies to improve Daihatsu's branding and profitability.
A Reuters report noted Daihatsu specialises in 660 cc vehicles and produces models including the Mira and the Cast, while also supplying car bodies and engines to Toyota and Subaru maker Fuji Heavy Industries.
It competes fiercely with Suzuki Motor in Japan where both automakers each hold about 30 percent of the minivehicle market.
But as minivehicles sales slump at home due to a rapidly ageing society and a lack of interest in car ownership among young people, the automakers have been looking to expand further into overseas markets.
Daihatsu has a 16.2% market share of the passenger car market in Indonesia, where it manufactures the Ayla and other vehicles in a joint venture with Astra International. In Malaysia, it operates a joint venture which has a market share of around 32.5%.
It also exports to Europe and North America, where some of its models have been sold under Toyota's Scion brand targeted at the youth market.
Global sales for Daihatsu slid 13.3% in 2015, the weakest sales performance in the Toyota group last year, which also includes the Toyota and Lexus brands and truck maker Hino Motors, Reuters added.