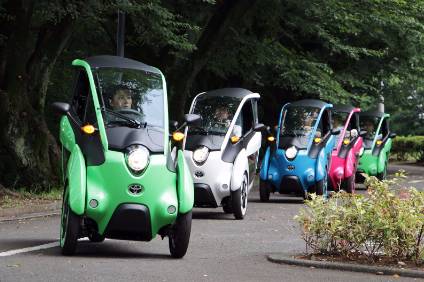 Toyota has acknowledged that the 'mixed experience' of its Grenoble i-Road last mile mobility testing has caused it to 'take a step back' and learn from more conventional carsharing solutions.
In 2015, Toyota put a fleet of electric micromobility i-Road vehicles in Grenoble, France, for a carshare scheme. At the same time, around 30 charging stations were created and managed by ED6F's subsidiary Sodetrel. The experimental carshare service was a collaboration involving Toyota, the City and the Metropolitan Area of Grenoble, French energy company EDF and Citélib, a local carsharing operator.
Connected to the public transport system's IT infrastructure, the Grenoble carsharing scheme enabled users to pick up one of the small EVs at one location and drop it off at another. Interconnectivity with public transport (trams, buses, trains) was also important.
Speaking at Frost & Sullivan's Intelligent Mobility 2017 event in London, Mark Adams, VP Business Transportation, Toyota Motor Europe, admitted the experiment was a 'mixed experience', if a learning one.
"Did the population accept and embrace that vehicle?," he asked. "Two years on, the answer is yes and no, quite honestly."
"Did the population accept and embrace that vehicle?," he asked. "Two years on, the answer is yes and no, quite honestly. Many people tried the vehicle, but many people transitioned to the more conventional carsharing solution that was offered by our operating partner – so it was a bit of a mixed experience."
However, Toyota that learning from the experience in Grenoble, it would take a step back in terms of sophistication and experiment with more traditional carsharing.
"We have been doing that in Dublin, working with a small start-up to form Yuko," Adams said.
"We are learning from working with a start-up to see how the carsharing experience works in a modern European city. We have learnt a huge amount over the past year."
He said they could see people trying the service, but there was a difficulty in getting them back. "There is plenty of excitement from corporations, but they fail to put their money where their enthusiasm is. We are still in transition, still learning."
However, Adams stressed the value of the feedback and the lessons that Toyota can take from the experience that are relevant to the company globally as it maps its future mobility strategy.
"The interest is huge inside the company because we are the first project in global Toyota to put something in the streets rather than down on paper."
Adams acknowledges that there is nothing technologically groundbreaking about the Yuko carsharing service, but maintains that it is groundbreaking "in terms of customer expectations in the city of Dublin".
"They are new to carsharing and it's a matter of understanding what the customer wants and delivering that. It's not about coming up with a smart technological solution and then imposing that."
Adams stressed that there are many uncertainties ahead in the area of smart cities and mobility and where it will ultimately go, but he said Toyota believes in the importance of the transition in the medium-term. "The transition means co-existing powertrains – EVs, combustible fuels and, eventually, hydrogen fuel cells," he said. "Many people like to tell us what the end game looks like, but what about the transition to that? Perhaps rural communities will stay much as they are today, with more CO2 incentives for clean vehicles; suburbia will strive further towards zero emission through EVs and PHEVs. City access to park and ride may mean that you transition to hydrogen or automated driving vehicles or EVs to access the tightly emissions restricted area."
Adams also said that a Toyota 'flying car' (or drone) may be shown at the 2020 Tokyo Olympics – Toyota engineers are said to be working on a prototype that would be showcased at the opening ceremony.