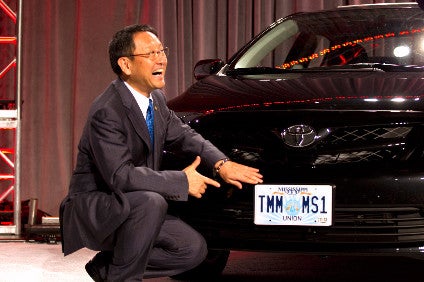 Suzuki and Toyota are considering collaborating on research and development.
In a statement, the pair said the automotive industry "environment" had been "changing drastically and rapidly in an unprecedented fashion" requiring the usual R&D work on conventional vehicles while adding advanced and future technologies encompassing environment, safety, and IT.
"In addition to the R&D that is conducted by individual companies, it is increasingly important to work together with other companies on areas such as infrastructure development, as well as the establishment of new industrial standards," they said.
The statement hints Toyota is eyeing Suzuki's expertise with mini-vehicles as it is weak in that important Japanese domestic market kei-car class and relies largely on affiliate Daihatsu to develop and build K cars. Suzuki develops and builds it own and also rebadges models for rivals 'on an OEM basis'. Segment sales were hit by the recent Mitsubishi fuel-economy data falsification scandal.
"With its primary focus on mini-vehicles, Suzuki has been consistently refining its technologies so as to develop vehicles [that are highly price competitive]. However, [facing the need for advanced and future technology R&D], Suzuki is increasingly feeling a sense of uncertainty. On the other hand, although Toyota has been working on R&D in the environment, safety, and information technology fields, Toyota is conscious of the fact that it may be behind competitors in North America and Europe when it comes to the establishment of [standards] and partnership with other companies," the statement said.
The two automakers said they had just started "exploring" collaboration opportunities but any resulting partnership would be based on the understanding both companies would continue "to compete with each other in a fair and independent manner". Both are also open to working with other companies and on mutually agreed industry standards.
Suzuki Motor chairman Osamu Suzuki said: "Toyota is the industry-leading, and the most reliable company which is actively working on various advanced and future technologies. I am appreciative that Suzuki is able to start discussions with Toyota to explore ideas on a partnership. I first spoke about this possibility with Toyota's honorary chairman Shoichiro Toyoda, and am very grateful that [Toyoda] has also [shown] interest. We will proceed with discussions for the future of Suzuki."Shoichiro Toyoda, and am very grateful that [Toyoda] has also [shown] interest. We will proceed with discussions for the future of Suzuki."
Toyota president Akio Toyoda said: "As the environment which surrounds the automobile industry has been changing drastically, we need to have the ability to respond to changes in order to survive. In addition to the R&D which each company is working on individually, it is very important now to have partners who share the same goal and passion. We would like to always keep our doors open for new partnership opportunities, which will contribute to the making of ever-better cars as well as to the development of the automotive industry."