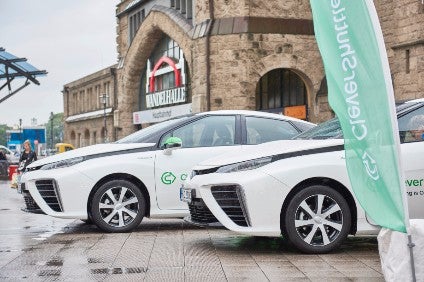 The first 20 (of 35) Toyota Mirai were handed over to the CleverShuttle ridesharing service in Hamburg this week.
This is the world's largest fleet of fuel cell vehicles run by a single operator.
The service will now launch in Hamburg (following Berlin, Leipzig and Munich) using only the Mirai.
Target customers are primarily train passengers looking for transport to and from stations. The service is booked via an app, allowing grouping of passengers with similar routes. CleverShuttle can thus offer affordable prices, up to 40% less than standard taxi prices.
For the second stage, in time for Oktoberfest, Clevershuttle will add 15 Mirais in Munich. This means visitors can travel from the train station to the famous folk festival emission-free.
"Handing over the Mirai is a momentous occasion for me," said Tom Fux, managing director and president of Toyota Deutschland. "We are proud that CleverShuttle chose us to be its trusted partner, relying solely on our fuel cell technology in Hamburg from now on."
"We want to bring even more e-mobility to the street. Hydrogen and fuel cells provide a vital alternative and complement purely battery powered vehicles," said d Enak Ferlemann, parliamentary state secretary to the federal minister for transport. "In recent months, the number of public hydrogen fuel stations has nearly doubled. This is an impressive development and is increasing the level of driver trust when it comes to filling up in their area."
CleverShuttle was founded in 2014 and started in February 2016 in Munich.