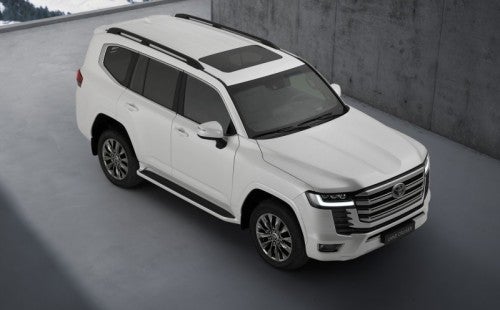 Toyota Motor has launched a new Landcruiser full-size SUV in Japan, the first full redesign of the model in 14 years.
The 300 Series replaces the 200 Series, which was launched in 2007, and has improved safety and security features and better off road handling combined with ease of driving.
The vehicle is based on a new lightweight version of the traditional ladder frame chassis which the company said is assembled with new welding technology to provide 20% more rigidity and improved collision safety performance than the predecessor.
Combined with a newly designed suspension systems, it also offers a quieter and smoother ride.
The new 'cruiser comes with either a 3.5-litre V6 twin turbo petrol engine, with a maximum output of 305kW (415PS) and peak torque of 650Nm, or a 3.3-litre V6 two turbo diesel engine with output of 227kW (309PS) and torque of 700Nm.
To help prevent theft, Toyota has fitted a fingerprint identification system a first time for the brand, which activates the engine.
Both versions of the new Landcruiser are priced at JPY5.1m (US$46,800) and there is already an estimated one year waiting list for delivery.