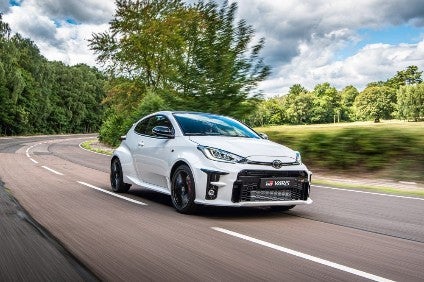 Toyota has started production of its GR Yaris "homologation special" hatchback at a new Toyota Gazoo Racing facility in Japan.
The model reaches Europe and the UK this autumn.
The automaker said a return to sports car production gave engineers the opportunity to redesign the assembly process specifically for the car developed directly from the company's championship-winning success in international rallying.
Toyota Gazoo Racing has established a new production centre dedicated to producing its cars, within the Motomachi factory.
The facility houses a series of individual assembly cells, connected by automatic guided vehicles (AGVs) rather than conveyors. This method of working enables production of highly rigid sports cars bodies and assembly to a higher degree of accuracy – challenging to achieve on standard, high volume lines.
Toyota Gazoo Racing has recruited highly skilled 'takumi' technicians "renowned for their exceptional craftsmanship" (Lexus describes takumi as "the highest level of artisan in Japan") from throughout the company. They will contribute to training workers at the GR factory and other Toyota facilities.
The GR Yaris is built on a new platform and powered by a new 1.6-litre three-cylinder turbo engine producing 257bhp and 360Nm of torque with all wheel drive. It weighs 1,280kg and can accelerate from 0-100km/h (62mph) in 5.5 seconds, its maker claimed.