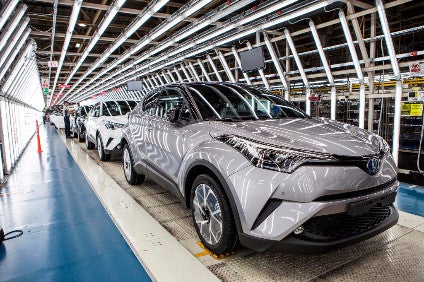 Production of the Toyota C-HR crossover has been officially launched at Toyota Motor Manufacturing Turkey (TMMT) in Sakarya as the automaker promised increased exports outside Europe.
The C-HR became the eighth model currently produced in Europe and enters the C-segment. It is the third Toyota hybrid car produced in Europe after the Yaris in France and the Auris in the UK.
TMMT will add the C-HR to its current production of the Corolla sedan and the Verso MPV, on the same line. It is the first hybrid-powered vehicle to be produced in Turkey.
The C-HR is the first Toyota car outside Japan to be manufactured based on the Toyota New Global Architecture (TNGA).
Total production capacity at TMMT will increase from 150,000 to 280,000 vehicles per year. TMMT has hired an additional 2,000 workers and the total number of employees is now around 5,000. Production is organised in three shifts. The additional plant spend is around EUR350m, taking cumulative cost of the plant to EUR1.7bn since it started operations in 1994.
TMMT, which already exports around 80% of its production to Europe, will gradually expand export markets outside Europe to include the US, Canada, Taiwan, Mauritius and South Africa.
"It is a great privilege for us to export to North America, because it is [our] biggest market and our customers there expect a lot in terms of quality, customer satisfaction, and connection to the brand," Toyota Europe said in a statement. "TMMT has been one of our best plants globally for many years when it comes to build quality and we are very confident our [workers] there will exceed our North American customers' expectations."
The 1.8-litre hybrid powertrain for the new crossover is produced at Toyota Motor Manufacturing UK (TMUK)'s engine plant in Deeside, North Wales. An additional GBP7.1m was spent on the factory and new equipment.
Toyota Motor Manufacturing Poland (TMMP) in Walbrzych, Poland, will supply manual transmissions for the 1.2 litre turbo engine versions. TMMP will start production of the hybrid transaxle in 2018, replacing components currently made in Japan.
European companies supply the bulk of the individual parts for the C-HR. Of the 135 suppliers, 134 are based in Europe with 71 in Turkey.
The proportion of locally-produced Toyota brand vehicles sold in Europe is now over 75% on a full production year basis.