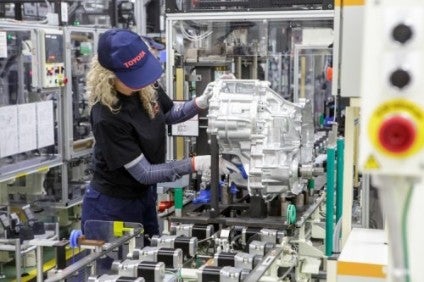 Citing "acceleration of the current coronavirus pandemic in Europe and its social and economic impact", Toyota Motor Europe (TME) said associated "lock-down measures taken by various national and regional authorities, an uncertain short-term sales outlook and difficulties in logistics and supply chains are being felt and will increase in the next weeks" so it would shutter its various factories across the continent from today (18 March) until further notice.
The plants are:
Toyota Motor Manufacturing France (TMMF) in Onnaing – production already suspended
Toyota Motor Manufacturing UK (TMUK) in Burnaston and Deeside – on 18 March
Toyota Motor Manufacturing Poland (TMMP) in Walbrzych and Jelcz-Laskowice – on 18 March
Toyota Peugeot Citroen Automobiles (TPCA) in Kolin, Czech Republic – on 19 March
Toyota Motor Manufacturing Turkey (TMMT) in Sakarya – on 21 March
The company said it would staff and maintain "processes that are important for society, such as the continued provision of service parts for customer vehicles which can be public safety vehicles.
"Likewise, processes and projects deemed essential to a smooth re-start and to the future activity of the plants, such as new vehicle projects, will be maintained with necessary staff."
TME said sales and aftersales operations would be assessed based on each country or region's situation.
In countries where lock-down measures were implemented by governments, retailer showrooms had been completely or partially closed though all retailers remain reachable via electronic communications and telephone for customer care.