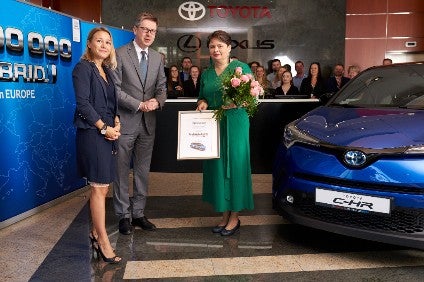 Toyota has delivered its two millionth hybrid electric vehicle in Europe nominating the milestone car a C-HR Hybrid crossover sold in Warsaw, Poland.
The milestone was reached 18 years after the original Prius (sedan) was launched as exports commenced three years after its Japanese domestic market debut.
"Customers have embraced hybrid as a practical and rewarding choice, adopting the powertrain as an attractive and efficient alternative to conventional petrol and diesel engines," Toyota Motor Europe (TME) said in a statement.
In 2011, hybrids accounted for 10% of Toyota's annual new car sales in Europe. That has now climbed to 47% in 2018. In 2019 TME will offer a new hybrid system in its Corolla, RAV4 and Camry plus Lexus UX and ES models.
TME claims independent research has shown that its current self-charging hybrids can be driven in zero emissions, all-electric mode for 50% of average urban and suburban journeys.
Matthew Harrison, TME's head of sales and marketing, said: "It's no surprise that our two millionth hybrid sale in Europe is a C-HR as this is now the best-selling hybrid model in the region. We are very confident we will exceed our goal of a 50% hybrid sales mix in Europe by 2020."
Toyota has sold more than 12m hybrid cars worldwide since the 1997 Prius launch. It now sells 34 hybrid models in 90 countries and regions.
Increased model availability, and consequent increased sales, is part of a plan announced in October 2015 to include a 90% reduction in new vehicle CO2 emissions by 2050, compared to 2010. Toyota aims to achieve that by making electrified vehicles more popular, putting 5.5m on the road every year by 2030. Of those, at least 1m will be zero emission as part of a mix also including plug-in hybrid, battery and fuel cell vehicles.