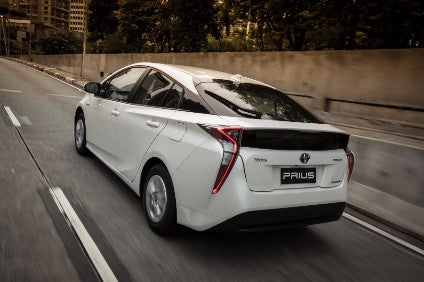 Toyota Motor announced this week it is recalling 340,000 hybrid Prius hybrids worldwide because of defects with the parking brake. But it has disputed wire service reports of consequent deaths and injuries.
According to earlier reports in Japan, the automaker was said to have acknowledged it had received reports of crashes, some said to have caused fatalities and injuries, but did not elaborate.
But Toyota sources told just-auto the automaker had, in fact, not received reports of deaths or injuries and the wire service reports were incorrect.
A statement from Toyota GB said: "Toyota has announced a safety recall for current (fourth generation) Prius models in the UK to correct a potential issue affecting operation of the parking brake. This action is part of a global recall that covers [340,000] Prius models manufactured between August 2015 and October 2016.
"There is a possibility that the parking brake on the vehicles involved in the recall may become inoperative. If the driver leaves the vehicle with the transmission in any position other than 'park' while the ignition is switched on, there is a risk the vehicle could roll away. The vehicle automatically engages 'park' mode when switched off."
Insiders said recalled cars would have a cable clip installed by dealers to repair the fault.
The Prius models were produced at the company's Tsutsumi facility in the Toyota city headquarters plant between August 2015 and October 2016.
The recall involves 212,000 Prius models sold in Japan, 94,000 in North America, 17,000 in Europe and the remainder in other regions, including Australia. In the UK 4,633 vehicles are affected, Toyota GB said.
On Thursday (13 October), it had issued a statement saying: "Toyota would like to clarify media reports related to a recall of some Prius models. The company has not been made aware of any reports of crashes, injuries or fatalities relating to this issue. While such incidents are reported in many ways, and sometimes to organisations other than Toyota, as at 3 October 2016, based on a diligent but not exhaustive review of all the available data, the company is unaware of any incidents."