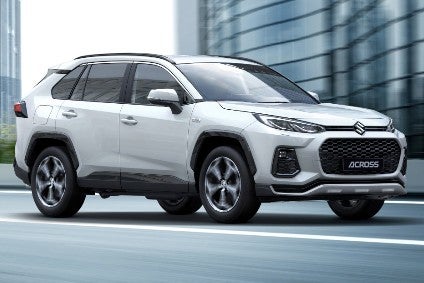 As reported recently, Toyota began building a version of the RAV4 plug-in hybrid for Suzuki in June. Now the ACross has been officially announced ahead of its arrival in left- and right-hand drive European markets commencing in October.
As part of an extension of their collaboration, it was announced in March 2019 that Toyota would supply two electrified vehicles to Suzuki for its European markets: models closely linked to the RAV4 and Corolla Wagon. No release dates for either was noted at that time.
The powertrain is identical to that of the RAV4 PHEV (Prime in some countries): a 137 kW and 227 Nm 2.5-litre petrol engine plus a motor on each axle (134 kW and 270 Nm front; 40 kW and 121 Nm rear) driving through an e-CVT. The battery's capacity is 18.1 kWh.
All-wheel drive is standard, kerb weight is a hefty 1,940 kg, top speed is only 180 km/h and the maximum range in EV mode is 75 km. Suzuki is yet to announce acceleration figures but the Toyota says the original will reach 60 mph in 5.8 seconds.