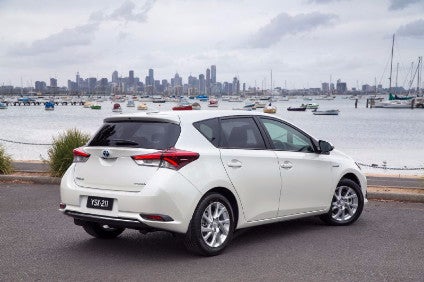 Despite a quarter million slide in vehicle unit sales, Toyota Motor Corporation profits rose in the nine-month period ended 31 December, 2015.
Consolidated vehicle sales fell 246,374 units to 6,492,784 but net revenues rose 6.5% to JPY21.4313 trillion yen. Operating income increased from JPY2.1148 trillion to JPY2.3056 trillion. Net income increased from JPY1.7268 trillion to JPY1.8860 trillion.
Currency fluctuations of JPY 310bn and cost reductions of JPY235n contributed to the JPY190.8bn rise in operating income.
In Japan, vehicle sales dipped 51,507 units to 1,476,655 while operating income increased JPY207.4bn to JPY1.3509 trillion.
In North America, vehicle sales rose 33,032 to 2,140,655 units while operating income, as usual excluding the impact of valuation gains/losses from interest rate swaps, fell JPY29.4bn to JPY427.6bn.
In Europe, vehicle sales totaled fell 15,894 units to 617,684 and operating income fell JPY15.7bn to JPY50.7bn.
In Asia, vehicle sales totaled 1,016,235 units, a decrease of 112,478 units, while operating income increased JPY58.3bn to JPY378.9bn.
In other regions (including Central and South America, Oceania, Africa and the Middle East), vehicle sales totaled 1,241,555 units, a decrease of 99,527 units. Operating income decreased by JPY15.3bn to JPY91.9bn.
Financial services operating income fell JPY19.9bn to JPY265.0bn, including a gain of JPY1.7bn in valuation gains/losses from interest rate swaps.
Excluding valuation gains/losses, operating income increased by JPY13.9bn to JPY263.3bn.
TMC also updated its consolidated financial forecasts for the fiscal year ending 31 March, 2016. Despite revised exchange rate assumptions of JPY120 to the US dollar and JPY132 to the euro, the automaker still forecasts consolidated net revenue of JPY27.5 trillion, operating income of JPY2.8 trillion and net income of JPY2.27 trillion.
This forecast does not include the impact of the planned suspension of vehicle production in February due to a steel shortage.
TMC managing officer Tetsuya Otake said: "At JPY2.8 trillion, our latest forecast remains unchanged from the previous forecast, having reflected both positive factors – such as progress in cost reduction and the weaker-than-expected yen so far – and negative factors such as an expected increase in sales expenses and other expenses."