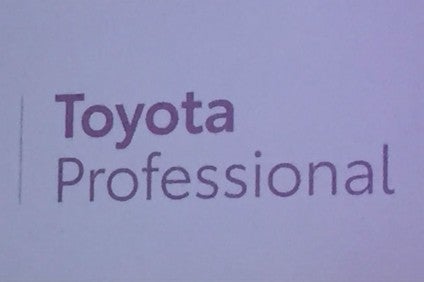 Toyota is getting serious about light commercial vehicles in Europe, announcing a new business strategy along with new products and an electrification plan.
The announcement came days after rival Fiat Professional showed off its electric Ducato, due in showrooms in 2020.
Apparently 'borrowing' the branding from its Italian rival, Toyota has grouped LCVs under newly created Toyota Professional which will be launched at European dealers next year and the PSA-supplied Proace City (a variant of the Citroen Berlingo and Peugeot Partner/Rifter) will be central to sales growth, giving the brand a presence in the compact van sector which accounts for 50% of LCV volume in the region.
Toyota Motor Europe (TME) director of product and marketing, Andrea Carlucci, said the brand was now ready to commit fully to the market by introducing van business centres at selected dealers, initially in major cities.
He added: "LCV is a key pillar of our product and marketing strategy along with alternative powertrains.
"Our LCV offering has been dominated historically by our pickup trucks but, since the launch of Proace, sales have risen across Europe from 21,000 in 2017 to 30,000 this year and we are projecting growth to 32,000 in 2020."
Small and medium size businesses plus sole traders are the key targets for growth.
Carlucci said the strategy is to build sustainable fleet sales, increase the resilience of the dealer network and achieve higher value chain profit.
The Proace – a variant of PSA's Citroen Jumpy/Dispatch and Peugeot Expert, is built in the Sevel Nord plant in Valenciennes, France, and there are also 'people carrier' variants – Toyota's is called Proace Verso while PSA's are the Citroen SpaceTourer and Peugeot Traveller.
From December, the smaller Proace City will come from Vigo, Spain. Both are PSA factories.
The City, which goes on sale from February next year, is seen as a key model because of the growth in sales of city delivery vans and e-commerce.
Compact delivery vans account for more than 800,000 sales in Europe.
TME LCV marketing manager Umberto Mazzone said Proace City would be the centre of gravity for the Toyota Professional strategy.
"It will be a brand booster and a fleet accelerator and our network will be able to provide a one-stop shop for fleet."
The first requirement was to create a credible LCV umbrella brand and Toyota Professional would have its own grey visual identity reflecting quality and a "metallic" look to reflect the image of a panel van.
Positioning would mirror that of Toyota cars – quality, durability and reliability.
Toyota Professional would have a dedicated area on the Toyota website.
Fleet senior manager Rodrigo Garcia said LCV centres would be established in dealerships, although not as stand alone buildings.
Dealers would be asked to have a specific space to show and sell vans, and display new signs.
They would also be expected to have a dedicated LCV salesperson, and workshop service stations, and carry up to 3.5 months' of stock turnover.
He added: "Unlike car buyers, people need their vans straight away. Dealers will also have to carry out express one hour service and provide courtesy vans."
The first van centres would be established in the current 600 Toyota Business Centres, dealers who specialise in fleet business.
The UK is ahead of the game and already has 24 specialist van centres along its 63 business centres.
The brand currently has around 2,000 European dealers.