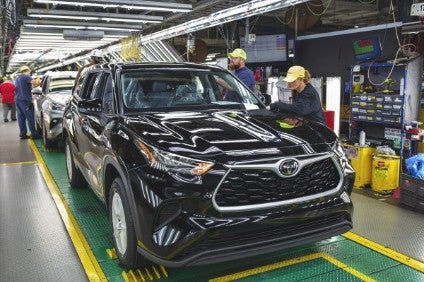 Toyota Motor Corporation reported a 25% year on year drop in global group output to 735,439 vehicles in October 2021 due to the continued global shortage of semiconductors and other parts, the Japanese automaker announced this week.
This followed strict lockdowns in key countries in the Asia Pacific region in the third quarter in response to the rapid spread of the Covid Delta variant.
Group sales were down by almost 21% at 735,980 units with Toyota and Lexus sales down 20% at 677,564 units while Daihatsu's sales plunged 33% to 46,067, reflecting particularly strict lockdown measures in Malaysia and Indonesia.
By contrast, Hino truck sales were up by 6.4% to 12,349 units.
Mini vehicles were the worst affected by the shortages with global sales plunging by 42% to 120,823 units. Overall group sales outside Japan fell by 14% to 615,157 vehicles.
This was the third consecutive monthly fall in global output and sales but the company indicated the worst is now behind it.
Toyota said in a statement: "We are continuing to closely monitor the spread of COVID-19 and parts supply shortage trends but, as a result of the cooperation of our suppliers, our production plans from November onwards are expected to be at high levels."
Earlier in November the company said all 14 plants and 28 production lines in Japan would return to normal operation in December for the first time since May. It also confirmed its production forecast of 9m vehicles for the current fiscal year which ends 31 March 2022.