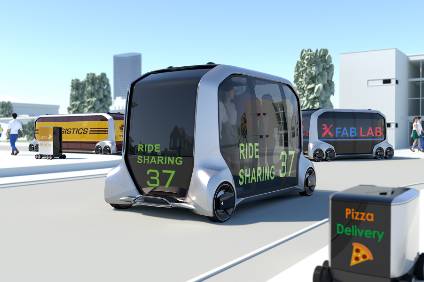 Toyota is aiming to build on its partnership with Softbank and the Monet JV to transform from vehicle manufacturer to mobility services provider.
Monet will provide coordination between Toyota's Mobility Services Platform (MSPF), Toyota's information infrastructure for connected vehicles, and SoftBank's Internet of Things (IoT) Platform, which was built to create new value from the collection and analysis of data acquired from smartphones and sensor devices.
By the second half of the 2020s, Toyota believes that Monet will be able to roll out a new generation of services in autonomous vehicles (autonomous mobility as a service) using e-Palette, Toyota's dedicated battery electric vehicle.
Possibilities include demand-focused just-in-time mobility services, such as meal deliveries vehicle where food is prepared while on the move, hospital shuttles where on-board medical examinations can be performed, mobile offices, and many more.
Speaking at a Frost & Sullivan conference in London, Augustin Martin, CEO of Toyota Connected Europe, said that when looking at future mobility "our competitors no longer make cars and this is a mindshift. Our future business model is as a mobility services provider."
Martin focused in particular on the bringing together of autonomous drive and electric vehicle technologies, using vehicle size and distances travelled in transport markets to generate 'key use cases' and get closer to assessing future customer needs. "We have to anticipate future regulations and be able to respond to them – and meet customer needs – on time," he said. "We are creating specific EV platforms to accelerate our efforts – from micro-mobility people movers to more conventional EVs."
In the long-run Toyota sees four main business models for its autonomous and electric MSPF offering to focus on: B2B for big corporations; B2B2C for medium and small businesses; B2G for business to government; and B2C for private customers.
Toyota sees its e-Palette and MSPF as playing a key role in meeting needs in each of those four areas. For the B2G solutions Toyota wants to support local government service providers 'facing the challenges of an ageing population'. The e-Palette could connect local institutions such as care and medical centres for people and goods delivery via lease options, Toyota maintains. The e-Palette could also offer solutions in areas where public transport options are limited. For private B2C users and subscribers to the 'Toyota mobility ecosystem', Toyota envisages an 'elite taxi service for the 21st century'.
Mobile induction charging units – powered by hydrogen – could also recharge the vehicles while in service in Toyota's future mobility scenario.
"The e-Palette plays a key role in developing an open MSPF eco-system for the optimised flow of energy, data, people and goods in the future," said Martin. "We are going to be collaborating with as many people as possible to make all this possible and cities will become a critical stakeholder. We want to a part of the future solutions provision that big cities will be working towards, using advanced and connected technologies."