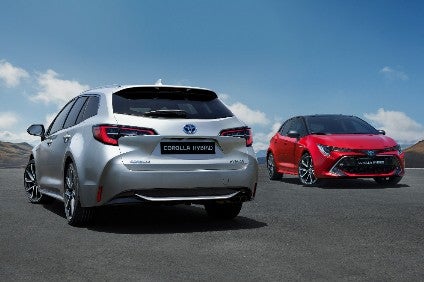 Toyota has marked the official start of production of the redesigned Corolla hatchback and wagon with a ceremony at UK car plant at Burnaston in Derbyshire.
The model line replaces the previous UK Auris and reverts to the popular Corolla nameplate worldwide.
The UK factory will produce the hatchback and wagon for Europe. A sedan version, largely for some European markets, previously was made in Turkey
Toyota Motor Europe (TME) said: "Toyota Manufacturing UK (TMUK) was our first major manufacturing enterprise in Europe and we have invested more than GBP2.75bn in its operations since the start of production in 1992. As part of our strategy to secure the competitiveness of our UK operations, we took the decision in 2017 to upgrade our Burnaston plant to manufacture cars based on the new TNGA platform."
The new Corolla will be the first Toyota model in Europe to offer the choice of two hybrid powertrains: an upgraded 1.8 litre engine that is manufactured at the Toyota Deeside engine plant in North Wales, and a new powerful two-litre powertrain. The new models will be launched across Europe from February 2019.
The latest Corolla is also the first model to be built in the UK on the TNGA platform. In March 2017, TME announced investment of GBP240m at its Burnaston operations for the introduction of TNGA production, upgrading its facilities with new equipment, technologies and systems. The UK government provided funding of up to GBP21.3m for training, research and development and environmental measures from its Regional Growth Fund.
TMUK was Toyota's first major manufacturing operation in Europe, with production at the Burnaston car plant and Deeside engine plant starting in 1992.
To date, the factory has produced 4m cars and engines and currently employs around 3,200 people across both sites. In 2010, TMUK was Toyota's first European site for hybrid electric vehicle production with the Auris Hybrid.
The introduction of TNGA has required multiple upgrades including an aluminium stamping capability and resin back door assembly, so that lighter weight body shells can be produced; 200 new high-speed robots and a global resin paint line. The factory also now has a new TNGA engine sub-assembly line.