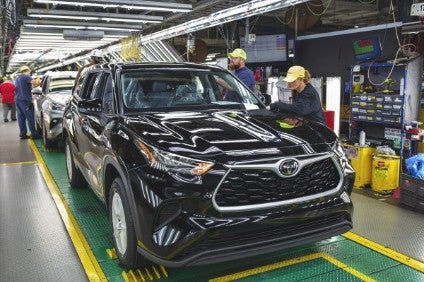 Toyota Motor Corporation retained its status as the leading global automotive group in 2021 with sales rising by over 10% to 10,495,548 vehicle sales across its Toyota, Lexus, Daihatsu and Hino brands.
The Japanese automaker overtook the Volkswagen group for the top spot in 2020. Its German rival earlier this month reported a 4.5% decline in global sales to 8.9m vehicles last year. Both companies were severely impacted by the global shortage of semiconductors in the second half of the year.
Toyota and Lexus global sales increased by 10.6% to account for 9,615,157 units last year while Daihatsu sales increased 4.5% to 725,179 units and Hino's 9.1% to 155,212.
Overseas sales rose 13.8% to 8,386,738 units while domestic sales fell 2.2% to 2,108,810.
Toyota Motor said in a statement: "The outlook for both COVID-19 and parts supply trends remain uncertain and we will continue to make every effort to minimise the impact."
Meanwhile Honda Motor reported a 6% drop in global production volume to 4,136,018 units while Nissan global output fell 1.2% to 3,585,153 units.