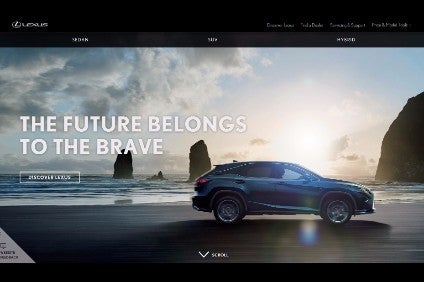 Toyota Motor's luxury Lexus brand was launched in India today, bringing, the automaker said, "a new luxury experience, exceptional design and high quality to the world's fastest-growing major economy".
The country is already a home for rival premium brands from Germany – Audi, BMW and Mercedes-Benz – all of whom assemble some models locally. Toyotas are wholsesaled and some built in India by a joint venture, Toyota Kirloskar Motors (TKM).
Lexus is being introduced with three models, selected to meet the preferences of Indian drivers: the hybrid ES 300h saloon and the RX 450h hybrid and LX 450d luxury SUVs.
"The decision to focus on hybrid vehicles demonstrates Lexus' understanding of Indian consumers' instinct for luxury and the importance of delivering strong performance while being considerate to the environment.
The line-up was revealed at a launch event in New Delhi, together with a preview appearance of the redesigned LS luxury saloon.
Akitoshi Takemura , Lexus India senior vice president, said: "How India experiences luxury is evolving with its affluence. Lexus will be providing the Indian consumer with an amazing experience through our vehicles, our service and through any interaction with our brand. We are excited about what we can bring to the luxury market in India, where we see opportunities mapped to the remarkable growth the country is experiencing. This is just the beginning; we look forward to bringing more exciting products to India in the future."
The new models are being offered at new, so-called 'guest experience centres' [aka dealers] in New Delhi, Gurgaon, Mumbai and Bangalore. Additional after sales and servicing outlets will be in Chandigarh, Hyderabad, Chennai and Kochi. The brand will also have dedicated 'relationship managers' and 24-hour call centres.