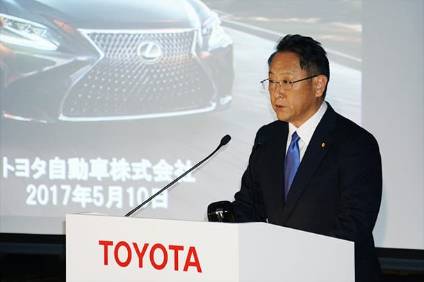 Toyota is forecasting an operating profit of 500 billion yen for the fiscal year through March 2021, down 79.5% from 2.443 trillion yen in the year just ended. Some 1.5 trillion yen of the decline is attributed to the forecast effects of decreases to sales across world markets.
Results for the fiscal year ended March 31, 2020, showed a generally flat picture, with the latter part of the period impacted by the COVID-19 pandemic. Toyota said consolidated vehicle sales totalled 8,958,423 units, a decrease of 18,372 units compared to the previous fiscal year. On a consolidated basis, net revenues for the period totalled 29.9299 trillion yen, a decrease of 1.0%. Operating income decreased from 2.4675 trillion yen to 2.4428 trillion yen, while income before income taxes1 was 2.5546 trillion yen. Net income increased from 1.8828 trillion yen to 2.0761 trillion yen.
Commenting on the result, TMC Operating Officer Kenta Kon said : "Due to the spread of COVID-19, net revenues were decreased by 380 billion yen and operating income were decreased by 160 billion yen."
Toyota President Akio Toyoda said that the projected 20% decrease in vehicle sales would be greater than the decrease during the global financial crisis, but that Toyota would still achieve an operating income of 500 billion yen in its current projection.
"Although this is our forecast at this time, if we are somehow able to achieve this level of our earnings, I believe that it would be the result of our having been able to strengthen our corporate composition," he said.
He also spoke about Toyota's values in the context of the current crisis. "I believe that our mission is to provide goods and services that make people throughout the world happy, or, in other words, to 'mass produce' happiness," he said."
"To achieve that, I believe that it is necessary to cultivate Toyota people in the world who can wish for and take action for the happiness of those other than themselves.
"That means developing human resources that have what I like to call a 'you perspective'. To this is what I will devote my own heart and soul, for the 'COVID-19 era' and 'post-COVID-19 era.'
"And I view this as also being a part of earnestly engaging in the sustainable development goals, or SDGs, for which international society is aiming, with the stance of 'no one will be left behind.'
"There is no crisis that humankind cannot overcome.
"For us to overcome the COVID-19 crisis together, Toyota is ready to do whatever it can to make itself of use."
Toyota is making medical face shields in the United States using 3D printers and has extended such efforts to other parts of the world, including Japan and Europe.
"Furthermore, when it comes to items that we cannot produce on our own, such as ventilators, we are providing support by applying TPS to improve productivity," Toyoda said.