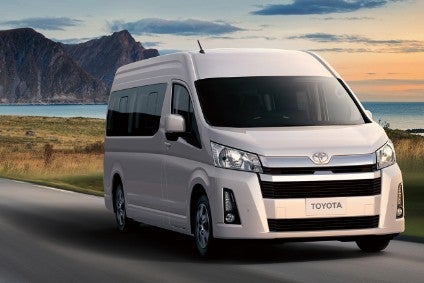 The sixth generation Hiace has been announced by Toyota Motor Corporation. It was revealed by Toyota Motor Philippines (TMP) at a media event in Manila.
This van and passenger van series is mainly for Asia, the Middle East, Africa, Oceania, Mexico and Latin America.
For the moment at least, the latest model, which remains rear-wheel drive, is not available in Japan. There, the fifth generation 540N series Hiace, which dates to 2004, remains in production.
Hiace mark six uses what Toyota terms 'a special revised platform' and this retains leaf springs for the rear suspension, although the engine is no longer under the front seats.
There are both Normal/Standard Roof (5,265mm long) and Long/High Roof (5,915) bodies for the van and minibus variants, two wheelbases, and up to seventeen seats over as many as five rows.
Neither TMC nor TMP has stated where the new model will be manufactured. A spokesman for Toyota Australia told just-auto that the Hiace for that market will be sourced from Japan. Generation five is built in Japan and South Africa.