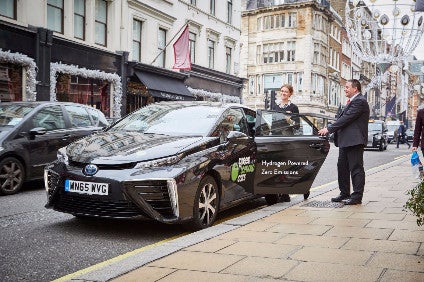 Toyota will begin tests of hydrogen as a power source at production facilities as early as this year, according to reports in Japan.
Nikkei reported that renewable energy (solar and wind power) will be tapped in Fukuoka Prefecture and used to split water molecules, producing hydrogen that will be stored and tapped to fill fuel cells as needed.
The report noted that heating equipment and air-conditioning account for roughly 60% of CO2 emissions from the production process. Toyota subsidiary Toyota Motor Kyushu will power air conditioners and forklifts with hydrogen, and aims to use it in the paint-drying process as well. Excess hydrogen can be used in the Mirai fuel cell car, the report maintained.
Toyota will work with Fukuoka Prefecture and Kyushu University, which have studied the cost-effectiveness of hydrogen power, in the project.
The report added that Toyota is targeting adoption of the technology at the Mirai plant in Toyota, Aichi Prefecture, by 2020.