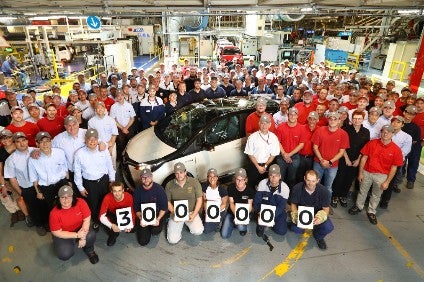 Toyota Motor Europe (TME) has confirmed it would spend a further EUR300m at the Toyota Motor Manufacturing France (TMMF) car plant in Valenciennes, bringing total cumulative investment to EUR1.4bn.
In coming months, the factory would be upgraded with new equipment, technologies and systems, to prepare for the future introduction of the Toyota New Global Architecture (TNGA) on which the automaker's latest models are built.
As a first step, TMMF would convert 300 temporary contracts into permanent contracts for preparation works and expected to add another 400 permanent jobs when full capacity is reached.
"We remain focused on strengthening the global competitiveness of our European plants. The roll-out of TNGA manufacturing capability is part of this plan. The upgrade of TMMF is a sign of confidence in our employees and suppliers, and their focus on superior quality and greater efficiency. We also appreciate French state and local authorities' support," said TME chairman Didier Leroy.
TME said the Yaris, which the plant has built over three generations since January 2001, was the most produced single model in France.
TMMF CEO Luciano Biondo said: "The flexibility agreement signed in 2017 with our local unions contributed to this investment decision. This investment puts us in a position to eventually achieve our aim of 300,000 units a year in the future.
The plant has received incentives from the French state and local authorities (Hauts-de-France region and Valenciennes) for training, innovation and further enhancements of the plant's environmental performance.
The TNGA already underpins the fourth generation Prius and the Turkish built C-HR crossover.
TMMF was established in 1998, started production in January 2001 and has built only that model line since, largely for Europe. Several years ago, it added production for North America. From the start of production in 2001 to the end of 2016, the plant built 3,120,827 Yaris vehicles with 237,851 of those leaving the line in 2016.
Some 87% of total production is exported to 42 destinations including the US, Canada and Puerto Rico.
The Les Echos newspaper said TMMF has 4,000 employees, with around 3,000 on permanent contracts. The workforce is expected to rise above 5,000 by 2020. News of the expansion was given to a central works council on Monday morning.
According to the paper, plant director Luciano Biondo told workers ahead of the meeting EUR300m would be spent on new equipment with a further EUR100m earmarked for worker training.
Last July, management negotiated a new agreement with four trade unions (CFDT, FO, CFE-CGC and CFTC ) offering increased flexibility in return for more hiring and training.
Les Echos said Toyota's move contrasts with PSA and Renault factory consolidation over the last decade. With 5,000 employees, TMMF will be as large as the nearby Renault Douai plant.
The paper added that Hauts-de-France regional president, Xavier Bertrand had offered TMMF EUR11m towards the expansion while the city of Valenciennes would also contribute.