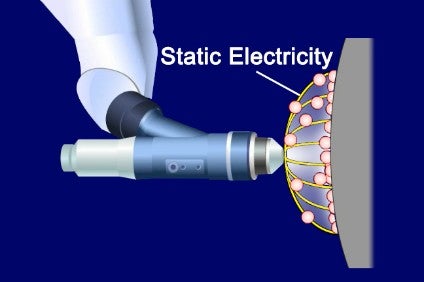 Toyota has developed a new type of paint atomiser which uses static electricity to replace conventional air paint atomisers used in the vehicle body painting process.
The company maintains the newly developed airless painter achieves more than 95% coating efficiency (the amount of paint sprayed versus the amount that actually adheres onto the vehicle body), from conventional efficiency of approximately 60% to 70%.
By deploying the airless paint atomiser in Toyota Group painting process, it is expected CO2 emissions will be reduced by around 7%. In addition, the collection device situated at the bottom of the paint booth can be made more compact.
Toyota is advancing initiatives to achieve its Plant Zero CO2 Emissions Challenge, one of the targets included in the Toyota Environmental Challenge 2050 announced in 2015.
As part of the effort, it developed the airless paint atomiser and deployed it at both Takaoka and Tsutsumi Plants.
Gradual deployment at other plants is planned as well as consideration of deployment among other group companies and licensing the technology to other firms.