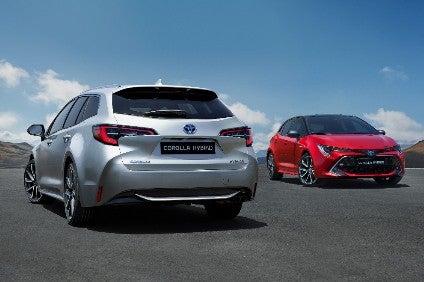 Toyota has denied media reports earlier this week which suggested it could end UK production as early as 2023 if the country leaves the European Union without a deal on the terms of its departure.
The Nikkei had cited Johan van Zyl, CEO of Toyota Motor Europe, as saying: ""If the business environment becomes very, very difficult to operate," a future withdrawal "should be on the agenda as well". He also mentioned less drastic options, including scaling back production or investment.
A Toyota spokesman told just-auto: "There is no truth to these reports. They appear to be a misrepresentation of comments in an interview with Japanese journalists about the possible long-term impact of an unfavourable Brexit scenario.
"As we have said before, a 'no-deal' Brexit would result in unfavourable trade and customs conditions with the EU. This would create additional hurdles to the competitiveness of the whole auto industry, and complicate investment decisions for additional models in the future. We have consistently said that we need a business environment that allows us to compete internationally so we can continue to attract new investments.
"We remain hopeful a UK-EU deal will be reached. We are supportive of our UK operations and have made significant recent investments (GBP240m) in production of the brand-new Corolla and vehicle platform to enable us to be as competitive as we can be. We intend to continue making every effort to uphold and improve the productivity and competitiveness of our production sites."
The Nikkei had said the prospect of Brexit had "rattled" the British auto industry which employs 900,000 people and generates GBP44bn (US$57.9bn) in annual exports, accounting for 13% of the country's total.
Automakers were concerned 'no deal' would lead to a 10% WTO tariff on exports to the EU and on components imported from the EU. They were also concerned new tariffs may lead to border delays, disrupting 'just in time' deliveries.
A growing list of automakers were considering reducing or ending British production, though this trend (Ford, GM) began long before Brexit as new plants were opened in cheaper locations in eastern Europe or consolidated in the west.
Toyota employs 3,200 at the Burnaston assembly plant in central England and the Deeside engine factory in Wales. Burnaston, opened in 1992, produced 129,000 vehicles last year – about 10% of Britain's total auto output. Toyota in 2017 announced plans to upgrade the plant and production of a new Corolla (nee Auris) for the European market started there in January.
Toyota earlier axed the slow selling Avensis, built only in the UK, and is replacing it with the revived Camry, last sold in Europe in the early 2000s, now imported from Japan. The EU recently inked a free trade agreement with the EU.
The Nikkei said Toyota's British plants source about half their parts from other EU countries and Turkey (from which the Corolla sedan and C-HR crossover also come) and 90% of the cars made at Burnaston are exported within the EU.
Moving from the current zero tariff regime to the 10% World Trade Organisation rate in the absence of a trade deal would squeeze profits, making UK production "very difficult", the Nikkei had quoted van Zyl as saying.
He urged the British government to maintain frictionless, untaxed movement of goods across borders.
Unlike other automakers, such as Honda and BMW, Toyota has no plans to pause production after the current Brexit deadline of 29 March. The company has stockpiled enough parts for three days in case of logistics problems in the event of a no-deal Brexit, though van Zyl said production would have to stop beyond that time frame.
The Burnaston plant normally stocks just four hours' worth of parts under Toyota's just-in-time model. On average, 50 trucks a day deliver parts there from Europe after crossing the English Channel via the Port of Dover. Any delay or disruption would bring production to a halt.
Honda said in February it would close its UK plant in 2021 but did not directly blame Brexit and Nissan Motor has canceled plans for British production of the X-Trail sport utility vehicle after buyers turned away from diesels. It also has sufficient capacity to supply the market from Japan.
BMW and Ford also are considering moving production though Ford long ago moved car production to Spain and Germany and light commercial output to Turkey. All it has left is a struggling engine making operation which has lost business as former Ford-owned customers JLR and Volvo move to using in-house designed and developed engines. BMW has previously contracted some Mini assembly to Magna Steyr in Austria and, now, NedCar in the Netherlands, due partly to capacity constraints at its Cowley site.