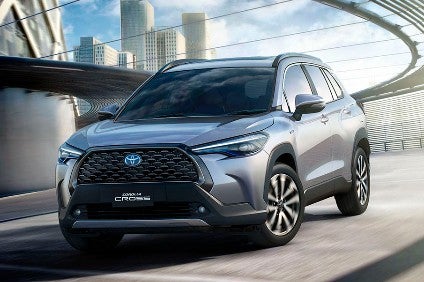 Toyota Motor launched the new Corolla Cross compact SUV in Thailand on Thursday (9 July) in what was the global debut for the model. It has also been confirmed for sale in Australia from late 2022.
The launch ceremony was attended by Michinobu Sugata, president of Toyota Motor Thailand, executive vice president Surasak Suthongwan and Toyota Motor Corporation chief engineer Daizo Kameyama.
Local sales of the model are now under way and exports will begin in coming months, starting with neighbouring markets.
Kameyama, who was in charge of the Corolla Cross project, said the model was designed with a 'Corolla Meets SUV' concept in mind, combining the comfortable ride and driving characteristics of the Corolla with the ease of access and larger cabin space of an SUV.
The Corolla Cross is based on the TNGA (GA-C) platform and is fitted with a new torsion beam suspension which the company said provides a stable, cushioned ride.
Its cabin offers ample headroom with the elevated seating also offering wide views and reduced blind spots for the driver, and 487 litres of luggage space.
The Corolla Cross is offered in three 1.8-litre petrol hybrid versions (Premium Safety, Premium and Smart) with 72kW total output and a petrol only 1.8-litre Sport variant with 103kW.
The petrol model has a fuel consumption of 6.5 litres/100km and emits 150g/km of CO2 under the NEDC (New European Driving Cycle) while the hybrid powertrains consumes 4.3 litres/100km and emits 98g/km of CO2.
Toyota Australia said the new SUV was due on sale "in late 2022" and source plant and other details for that market would will be announced closer to launch.
It will position the new model between the upcoming Yaris Cross and the RAV4.
Sales and marketing chief Sean Hanley said the Corolla Cross would be an important addition to the Australian range with SUV sales accelerating to an "unprecedented" 48% of the market so far this year.
Toyota Australia SUVs are top sellers with a 2020 market share of 19.6%, up from 16.5% last year.
Led by the RAV4 sold in both petrol and hybrid variants, Toyota has increased SUV sales this year by 2.3%.
Since launch in Japan in 1966, the Corolla nameplate has sold a cumulative 48m units globally and is Toyota Motor's best selling car.
A Toyota GB spokesman said the new SUV was designed for Thailand and other primarily Asian emerging markets and there were no plans to launch it in Europe.