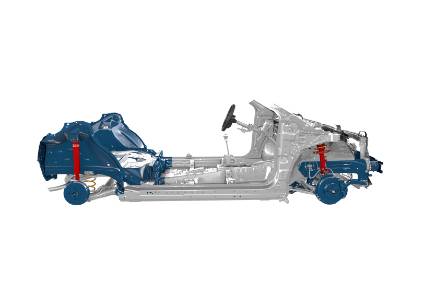 New model will provide an 'affordable entry point to the Toyota brand'
To be built on Toyota's TNGA-B vehicle platform
New model will increase European annual production of GA-B-based models to 500,000 units, securing scale economies
ICE powertrain to keep price point down
Toyota has confirmed it will produce a third model on its TNGA-B vehicle platform for Europe's A-segment (city cars).
The company said the new car will continue the role of previous A-segment models as an entry point to the Toyota brand and 'maintain the key quality of being accessible to customers'.
It joins the Yaris in being constructed on the TNGA-B small car platform.
The next model to use the small car platform will be the Yaris Cross SUV, scheduled for launch later in 2021. Yaris Cross and the new A-segment model are expected to increase European production of TNGA-B based vehicles to more than 500,000 units a year. Toyota says achieving this volume will help deliver the economy of scale required to ensure that the new A-segment model is an accessible proposition for customers.
Toyota also maintains the A-segment is dominated by models powered by internal combustion engines, further emphasising how cost remains a key consideration. It said the market outlook sees this situation continuing, with financial accessibility remaining a dominant consideration for customers.
Toyota's current A-segment Aygo city car for the European market is built at a wholly-owned plant in the Czech Republic (at Kolin, formerly a JV with PSA), which would likely be utilised for the new car (the Yaris and Yaris SUV – sharing the TNGA-B platform with the new A-seg car – being built at Valenciennes, France).
The A-segment class of very compact city cars presents a dilemma for car companies in Europe as they have to hit very tough emissions standards and keep the price point low. Some, such as Opel/Vauxhall with its Karl/Viva have decided to exit the segment altogether and review small car product strategies in the light of electrification plans. Toyota's strategy is to go for scale by sharing architecture with the Yaris and stick to a low-cost ICE powertrain solution for the as yet unnamed A-seg car.